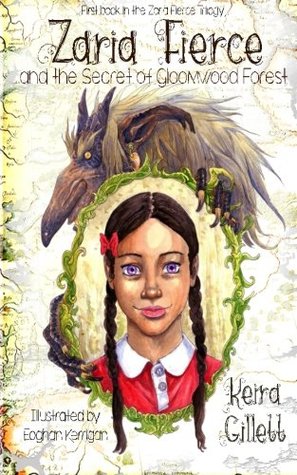 Author:
Keira Gillett
Format:
eBook
Publisher:
Keira Gillett
Number of Pages
: 224
Date Published:
March 6 2015
Source:
In exchange for an honest review,
an ebook was provided by the author for free.
Opening Line:
"A timid thing was Zaria Fierce. The antithesis of her last name, the young girl was shy, quiet, and self-contained. She kept to her own company most of the time, as she and her family often moved due to her adoptive father's military career. Because of his new post, the family was stationed in Norway."
The Secret of the Gloomwood Forest begins on Zaria's birthday, while she is running across a bridge to catch up to her friend Christoffer. Zaria stumbles upon Olaf, the river's guardian, who threatens to eat her. Drawing from her knowledge of fairy-tales (The Three Billy Goats Gruff), Zaria attempts to dissuade him and makes a bargain to bring him a feast within three days in exchange for him letting her pass. When Zaria tries to tell her family and friends about her encounter with a troll, they laugh it off as one of her "stories" and she quickly forgets the promise she made. However, it doesn't bode well for Zaria to trick a river troll, Olaf did warn her that there would be consequences if she didn't keep her promise, and he always collects his fee. When Zaria's friend Christoffer ends up missing, Olaf agrees to make a new bargain, in exchange for her bringing him the hart of gloomwood forest, he will release her friend. So, Zaria agrees to his terms and begins a quest with three of her friends to try and retrieve the hart for him.
Very quickly I was able to relate to Zaria, having been an Army brat and moving just about every four years growing up. I'm sure most people would've thought I was shy back then too. Like Zaria, I spent lots of time reading and dreaming up adventures. I especially enjoy that Zaria doesn't stay this
shy and quiet girl, and begins to develop confidence in herself, offering her opinion, fighting off wolf attacks and develops stronger friendships with Geirr, Filip and Aleks. Zaria and her friends journey through the forests of Norway, visiting various magical kingdoms, like the underground cavern of Trolgar, Alheim, Jotunhem, and even the high court of the dwarves. Along the way they encounter trolls, elves, wolves and a winter-wyvern. The story is a mix of modern day Norway with fantasy/magical kingdoms. You get the flavor of the country, and Gillett even throws in a Welsh word like "bussed," which after a quick search I learned means kiss, as in "he bussed his wife on the cheek." What really makes the story come to life are the illustrations by
Eoghan Kerrigan
, which are gorgeous, just look at the one of the troll on the cover with Zaria, or checkout the link. Overall this was a wonderful fantasy/adventure story, I loved the setting, and that the action begins from the get go, there were a few places were closer editing might have picked up some small grammar errors, but hey I'm not the best at this myself, and it didn't detract from my overall enjoyment of the story. I'm looking forward to continue with Zaria Fierce and the Enchanted Drakeland Sword next.