This weeks topic is
Ten Books Which Feature Characters...
I love baking cookies, cupcakes, brownies. The fun thing about it is that it's a passion that my kiddo and I can share, we even like inventing our own desserts (somehow they always seem to have some sort of candy topping). Plus the rewards of eating what you make are even more fun. It's one of my favorite parts about cooking in general. After perusing Goodreads for some added help, because well I haven't read ten books on baking myself. I came up with a list of what I've read and some to add to my TBR list. I'm going to include a brief summary from Goodreads, so in no particular order....
1.
Can their friendships take the heat? A trio of mothers and daughters will find out when they sign up for a cooking class from a famous chef in the first book of the Saturday Cooking Club series - it's mother-daughter bonding and so much more!
2.
Katie is miserable on the first day of middle school. Her best friend Callie came back from camp boy-crazy and part of a whole new group of friends. Katie realizes if she's going to survive middle school she needs to seriously regroup and find some new friends. But how? She bites into the cupcake her mother packed her for lunch and for a second closes her eyes. The sweet treat makes her happy—finally something goes right!
3.
Baking a fluffy pink cupcake is awesome, but wearing a dress that looks like one? No, thank you!
Cousins Willow and Delia can't wait to spend a week vacationing together with their families. Their aunt is getting married, and Willow and Delia are hoping their tasty baked goods will be enough to get them out of being flower girls in the wedding.
I particularly liked that this book included recipes.
4.
Gladys Gatsby has been cooking gourmet dishes since the age of seven, only her fast-food-loving parents have no idea! Now she's eleven, and after a crème brûlée accident (just a
small
fire), Gladys is cut off from the kitchen (and her allowance). She's devastated but soon finds just the right opportunity to pay her parents back when she's mistakenly contacted to write a restaurant review for one of the largest newspapers in the world.
I love the premise of a girl who has a secret life filled with cooking. Reading these books always make me hungry.
Amelie Day loves to bake - cupcakes, biscuits, bread, tarts and muffins - so she's thrilled when she's invited to compete in Britain's Best Teen Baker of the Year. But Amelie has Cystic Fibrosis and some days she can barely breathe. Determined not to let her condition or her mum stop her, Amelie musters all her flour power, but will it be enough to get her there?
6.
One afternoon, Julia Evarts and her five-year-old daughter, Gracie, arrive home to find an unexpected gift on the front porch: a homemade loaf of Amish Friendship Bread and a simple note:
I hope you enjoy it.
Also included are a bag of starter, instructions on how to make the bread herself, and a request to share it with others.
A little part mystery in figuring out who the bread came from, but more about friendship, community, etc. It comes with recipes.
7.
When Alice's Aunt Polly, the Pie Queen of Ipswitch, passes away, she takes with her the secret to her world-famous pie-crust recipe. Or does she? In her will, Polly leaves the recipe to her extraordinarily fat, remarkably disagreeable cat, Lardo . . . and then leaves Lardo in the care of Alice.
This just sounds so cute.
8.
Twelve-year-old Isabel is dying to get out of her small town of Willow, Oregon, and travel like her best friend, Sophie. But when Isabel's mother decides to open up a cupcake shop across town, Isabel is once again stuck in Willow for the summer; until she learns of a baking contest.
9.
Lulu Baker's dad is getting ready to marry his new girlfriend, world-famous model Varaminta le Bone. Everyone thinks Varaminta is fabulous. Everyone, that is, except Lulu. She knows that her stepmother-to-be, not to mention her awful son Torquil, is cruel, deceitful, and just using her father. But how can she make her dad see Varaminta and Torquil for who they really are?
When a magical recipe book called THE APPLE STAR finds its way into Lulu's hands, she finds that some very unusual ingredients and some help from her friends just might do the trick
10.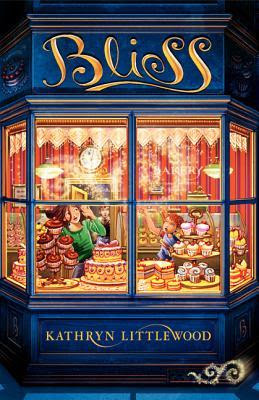 Rosemary Bliss's family has a secret. It's the Bliss Cookery Booke—an ancient, leather-bound volume of enchanted recipes like Stone Sleep Snickerdoodles and Singing Gingersnaps. Rose and her siblings are supposed to keep the Cookery Booke under lock and whisk-shaped key while their parents are out of town, but then a mysterious stranger shows up.
I love the cover and the ones for the sequel. I really need to read this soon.
So feel free to tell me some of your favorite characters who would be found baking. Or include a link to your top ten. Happy Reading!