Wednesday, December 31, 2014
Thursday, December 18, 2014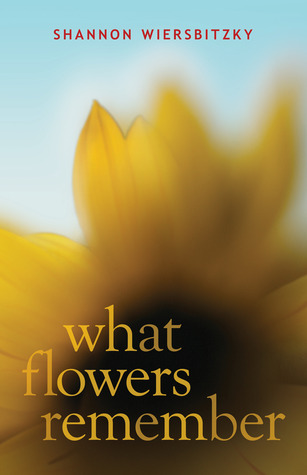 Delia and Old Red have been friends ever since he began teaching her how to grow his families heirloom flowers. Old Red and Delia share many stories together, making him feel more like a grandfather to her. They even started a seed and flower selling business together, but when Old Red starts to experience difficulty in recalling peoples names and is forgetting things, Delia becomes concerned by what is happening to him. When Old Red moves into a nursing home, Delia comes up with a plan to catalog all of his memories by collecting stories and photographs from his friends and neighbors in town.
What Flowers Remember is a glimpse of the impact of Alzheimer's on both the person experiencing the disease and in this case also on a young friend. Delia illustrates how Alzheimer's can be a difficult thing to understand. The feelings of how can they forget the people and most important events in their life? Will they be able to remember me? It's a sad story, but one in which Shannon Wiersbitzky draws on her own experiences to show the love and helplessness of someone close to us beginning to loose their memories. I so enjoyed how Delia created a scrapbook or photo album about Old Red, and when they were listening to music, it reminded of some of the strategies that I used with my patients as a speech pathologist. There were some light romantic moments between Delia and Tommy, which helped to break up some of the sadder moments.
Favorite line:
When Tommy and Delia were standing close to one another..."It made my stomach tilt like I was on a ride at the fair. The kind where I got off feeling sort of woozy, but all I wanted to do was to run back around and get in line so I could go all over again."
An ebook copy was provided by the publisher for consideration for the 2014 Cybils award in Middle Grade fiction.
Wednesday, December 3, 2014
At Your Service by Jen Malone
Chloe Turner has a lot in common with her favorite children's book, Eloise. They both live in a famous hotel in New York City, but Eloise was a guest and Chloe's father is an employee of the St. Michele hotel. Chloe's ambition is to be just like her father, a respected concierge for the St. Michele hotel. Her first assignment in helping her father is to find out what will make a bratty girls birthday week the most memorable. When Chloe does a remarkable job, she is promoted to junior concierge and her next task is to show three royal guests the sights around New York City. Making sure that each person is happy turns out to be more difficult than she imagined. To top things off the youngest princess disappears, leaving Chloe and the princesses siblings left to try an find her before the King learns she is lost. I especially liked the adventurous journey that the children embark on through New York City's famous landmarks, restaurants and attractions. It really gives you the feel of being in New York. I also liked the moments shared between Chloe and Alex and felt the story was resolved in a fun way.
Three Bird Summer by Sara St. Antoine
Each summer Adam looks forward to a vacation on Three Bird Lake with his grandmother and parents. However, this year his dad and cousins wont be coming, because his parents are divorcing. Another change is that there is a new family next to his grandmothers cabin, one with a girl that his grandmother thinks is "cute." Adam is kind of shy around girls and isn't sure that he and Alice will have anything in common. She's probably just like all the other girls at home, popular and not interested in hanging out with him. Alice turns out to be different than the girls that Adam knows, Alice speaks her mind and has a way of helping him get out and explore the island. When Adam's grandmother begins to show signs of confusion and leaves mysterious notes in his room alluding to a hidden treasure, Adam asks Alice to help him to try and figure out where the treasure might be hidden. There is a nice mystery surrounding who gave the treasure map to Adam's grandmother and also some light romantic moments between Adam and Alice.