It's been a busy month of reading for me, and I'm absolutely loving every minute of it. I've never participated in a 24-hour readathon but have a new appreciation for those of you who do. I thought I'd take a little pause and update you on some of my early Cybils reads, in no particular order. All book descriptions are from Goodreads, followed by my thoughts.
Snared: Escape to the Above by Adam Jay Epstein
Publisher:
MacMillan Publishing
Number of Pages
: 320
Published:
June 5th, 2018
Source:
Library
Chopping blades, scorpion nests, giant spiderwebs—no one makes traps better than Wily Snare.
He has never seen the sun, or blue sky, or even his parents. Wily Snare lives underground, creating traps to keep treasure-seekers away from the gold in an ancient wizard's dungeon. He spends his days mopping up giant slug slime, avoiding poison darts, and herding undead skeletons. It's all he knows.
Until an unusual band of adventurers—an acrobatic elf, a warrior with a magic arm, and a giant made of moss—successfully defeat Wily's traps. And they want the ultimate treasure: Wily himself. His skills can help them invade every other dungeon in the kingdom. He might even aid their fight against the Infernal King, whose gearfolk and prisonauts terrorize the land.
But for a boy who has never been outside, dungeons aren't nearly as scary as the world above. Or an evil king who builds the trickiest traps of all . .
This was a fun adventure filled with twists and turns. It reminds me of all the things that I enjoyed about The Dungeoneers by John David Anderson. I really enjoyed the underlying theme of families come in many forms and the emphasis on the importance of books. Wily is a fun character, both smart and passionate about his trap designing skills. First in a new series and I'm looking forward to his next adventure.
The next two are books from the Rick Riordan Presents: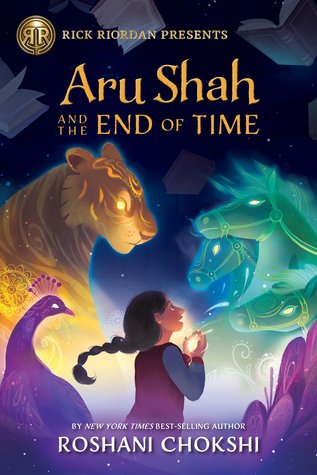 Aru Shah and the End of Time by Roshani Chokshi
Publisher: Disney Hyperion
Number of Pages
: 343
Published:
March 27th, 2018
Source:
Library
Twelve-year-old Aru Shah has a tendency to stretch the truth in order to fit in at school. While her classmates are jetting off to family vacations in exotic locales, she'll be spending her autumn break at home, in the Museum of Ancient Indian Art and Culture, waiting for her mom to return from her latest archeological trip. Is it any wonder that Aru makes up stories about being royalty, traveling to Paris, and having a chauffeur?

One day, three schoolmates show up at Aru's doorstep to catch her in a lie. They don't believe her claim that the museum's Lamp of Bharata is cursed, and they dare Aru to prove it. Just a quick light, Aru thinks. Then she can get herself out of this mess and never ever fib again.

But lighting the lamp has dire consequences. She unwittingly frees the Sleeper, an ancient demon whose duty it is to awaken the God of Destruction. Her classmates and beloved mother are frozen in time, and it's up to Aru to save them.

The only way to stop the demon is to find the reincarnations of the five legendary Pandava brothers, protagonists of the Hindu epic poem, the Mahabharata, and journey through the Kingdom of Death. But how is one girl in Spider-Man pajamas supposed to do all that?
Very nice introduction to Indian mythology and the Hindu religion and written by an own voice! I really wish I could've gotten more into Aru Shah's character, she seemed insensitive at times and really "me" focused but Boo the lovely pidgeon guardian (think Mushu from Mulan) made the story highly entertaining. I thought the overall pacing was done well and the premise of completing a quest to prevent the destruction of the world so reminded me of the Lightning Thief.
The Storm Runner by J.C. Cervantes
Publisher: Disney Hyperion
Number of Pages
: 448
Published:
September 18th, 2018
Source:
Library
Zane has always enjoyed exploring the dormant volcano near his home in New Mexico, even though hiking it is challenging. He'd much rather hang out there with his dog, Rosie, than go to middle school, where kids call him Sir Limps a Lot, McGimpster, or Uno — for his one good leg. What Zane doesn't know is that the volcano is a gateway to another world and he is at the center of a powerful prophecy.
A new girl at school, Brooks, informs him that he's destined to release an evil god from the ancient Maya relic he is imprisoned in — unless she can find and remove it first. Together they return to the volcano, where all kinds of crazy happens. Brooks turns into a hawk, a demon attacks them in a cave, and Rosie gives her all while trying to protect Zane. When Zane decides to save his dog no matter the cost, he is thrust into an adventure full of surprising discoveries, dangerous secrets, and an all-out war between the gods, one of whom happens to be his father. To survive, Zane will have to become the Storm Runner. But how can he run when he can't even walk well without a cane?
Feisty heroes, tricky gods, murderous demons, and spirited giants are just some of the pleasures that await in this fresh and funny take on Maya mythology, as rich and delicious as a mug of authentic hot chocolate.
Storm Runner is based on Mayan mythology with only slight similarities to The Lightning Thief. With plenty of adventure and new host of magical creatures, gods and some really intense battles, this surely will be a hit. Love the diversity, inclusion of a boy with a disability, and that the story is own voice. I also appreciated that the ending felt complete while leaving room for more books in the series.
Well, that's it for now but I hope to be back with more updates soon.