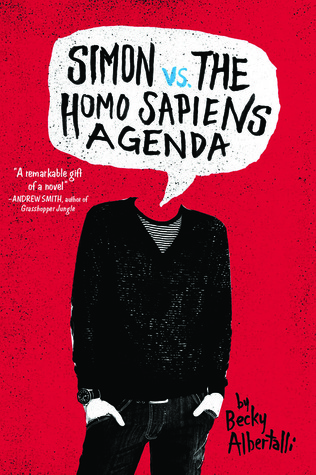 Hardcover, 303 pages
Published: April 7th, 2015
by Balzer and Bray
Genres: YA Realistic Fiction
Source: Public Library
"Sixteen-year-old and not-so-openly gay Simon Spier prefers to save his drama for the school musical. But when an email falls into the wrong hands, his secret is at risk of being thrust into the spotlight. Now Simon is actually being blackmailed: if he doesn't play wingman for class clown Martin, his sexual identity will become everyone's business. Worse, the privacy of Blue, the pen name of the boy he's been emailing, will be compromised.
With some messy dynamics emerging in his once tight-knit group of friends, and his email correspondence with Blue growing more flirtatious every day, Simon's junior year has suddenly gotten all kinds of complicated. Now, change-averse Simon has to find a way to step out of his comfort zone before he's pushed out—without alienating his friends, compromising himself, or fumbling a shot at happiness with the most confusing, adorable guy he's never met." (Summary from Goodreads).
There were a couple of reasons that I really wanted to read this book. First, this quote that I saw over at themidnightgarden.net "You've Got Mail starring gay teenage boys with good grammar." I loved, loved that movie. Plus when The Midnight Garden starts gushing about a book, I usually take note and add it to the TBR list. Then I request my library purchase it. Where YA is concerned, they are my go to gals. Yep, it's how I found A Darker Shade of Magic by V.E. Schwab and why I purchased Uprooted by Naomi Novik to read over the summer. T
here also was just something about that description that I found so appealing. Once a long, long time ago (probably in my teens), I thought I wanted to work in clinical psychology. I've always been fascinated by how our brains work, neurology and such. It led me to speech pathology later on. But, I again I was intrigued by the premise of a contemporary romance between two sixteen year-old boys via email. One of the things I've also been trying to do over the past year is to broaden my selection of books, delve into new to me subjects, diverse books, read across the spectrum of genre's (YA, MG, Adult) and Simon vs. The Homo Sapiens Agenda sounded to cute to pass up.
First off, I really loved the characters. Simon is so adorably cute and flirtatiously awkward in a lovable way. He's navigating his way through having feelings for the boy that he only knows as Blue that he has been communicating anonymously with via email. Simon is vulnerable and funny and seems to realistically portray the emotions of coming out to his friends and family. I'm so happy Simon had supportive parents and friends who were behind him 100%. There are those moments of bullying/blackmailing, but even these are dealt with pretty quickly by the school/teachers. Ah, if only things went like this in schools. Then there is Blue, who is allusive, never revealing enough about himself in his emails, and whose identity we are left with trying to figure out until the very end (For once, I figured this out, but it wasn't until pretty late in the book). I also really loved the humor of Simon, through his emails and with his friends and family. It was a really tight network of friends, almost to perfect in someways, but balanced off with some very realistic fights and squabbles too. Aside from the characters, there are the settings, like school, Waffle House, hanging with your friends in the basement, going to a club. Simon getting drunk for the first time and the consequences of his actions. You just get rooted in this Harry Potter loving, Oreo eating kids life. There is also all those emotions of does he like me or does he not? With some romantic moments toward the very end, that are well just adorably romantic and cute and an ending that is pretty satisfying. Overall a wonderful book that is both a lighthearted coming out, and uplifting coming of age story.