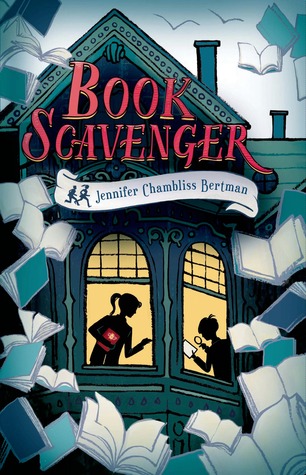 Book Scavenger
by
Jennifer Chambliss Bertman
Expected Publication
June 2nd
, 2015
Genres: Middle Grade Mystery
Format: Ebook
Twelve-year-old Emily has moved so many times, her parents have almost met their dream of living in 50 Homes in 50 States. At first it was fun to move every few years, but now Emily wants to find a place that she can call home. A place where she can also finally have a friend. When Emily's parents announce they will be moving to San Francisco, she's thrilled. It's the home of her favorite game creator, Garrison Griswold, and he is about to release one of his famous Book Scavenger games. However, Griswold has been attacked and the game he was to launch may have been lost. When Emily and her upstairs neighbor James find a book with the mark of Griswold's publishing company on it, they believe that they have stumbled onto one of Mr. Griswold's games. Emily and James try to
decipher
the clues inside the book, but soon must keep it safe from the criminals who attacked Mr. Griswold and want to steal the book back.
I first saw this book on a few blogs and was intrigued when I began hearing it compared to
Escape from Mr. Lemoncello's Library by Chris Grabenstein
(another book that I really enjoyed). I also read about the book launch being a giveaway of 50 advance copies to a winner in each of the 50 US states, then having a nationwide scavenger hunt for the books. How cool is that? Here's a link to the launch. and another on where books are being hidden/found. You can also read the first chapter here. So, when
I saw that Book Scavenger was listed on NetGalley, well I crossed my fingers and was lucky enough to get a copy.
I absolutely adored
Book Scavenger, it was such fun to read. Everything from the authors note where Bertman lists the inspirations for Book Scavenger (which is a combination of b
ooks, movies, Geocaching, cipher's and the website BookCrossing.com). To the setting of San
Francisco filled with various
historical facts and figures that make for an interesting plot. Plus there is a nice mystery that sort of involves Edgar Allen Poe. I enjoyed all the characters and relationships, with my favorite being Emily's older brother. A really wonderful and creative story. The perfect sort of book for someone who loves solving puzzles and may spark an interest in cipher's and codes, not to mention trying to learn how to break them. Which is much harder than it looks. I love the marketing
campaign
for the Book Scavenger and think it is quite unique to have an online game where you can actually follow hidden clues to find and read ARC's of the book. Talk about art imitating life, or would it be life imitating art in this case? A delightfully fun story and bonus the author is working on a sequel.