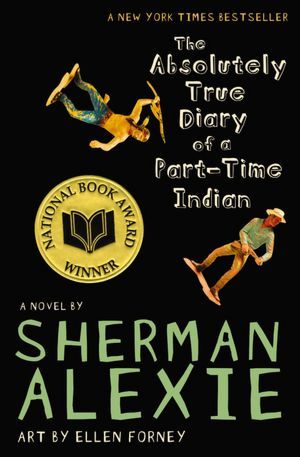 The Absolutely True Diary of a Part-Time Indian by Sherman Alexie
Format:
Hardcover
Publisher:
Little Brown Books for Young Readers
Number of Pages
: 230
Published:
January 1st 2007
Source:
Library
Genre
: YA Realistic Fiction
Arnold "Junior" Spirit lives on the "rez," an Indian reservation in Spokane, Washington. While sitting in class one day, Junior happens to look at the inside cover of the book they are reading. He finds a name scrawled across it, the name happens to be his mothers. What makes him really angry is that if this is his mothers book, the school has been using the same book for the past thirty years. So Junior throws the book across the room, inadvertently hitting his teacher in the face. When that same teacher shows up at his house, Junior thinks this is it, he's going to get beaten up for like the hundred and eleventh time or something. He never expected his teacher to plead with him to leave the reservation, but Junior begins to think his teacher is right, what he needs is "hope." Or at least a place that can offer hope, and Reardan, a farm town twenty-two miles away, might be just the place he needs.
The Absolutely True Diary of a Part-Time Indian chronicles Junior's life on an Indian reservation in Spokane and his decision to go to a nearby town to school. A decision that at first is met with resistance by his own community, and the teenagers in his new school.
Most hurtful is his best friend Rowdy's reaction. However,
Junior has lots of heart and is determined to go and work toward a better future for himself, eventually winning everyone over. Alexie writes a story that is honest in its portrayal of life as Junior sees it on the reservation as well as the thoughts and feeling of a teenager. Things felt hopeless at times, with Junior being surrounded by alcoholics and the death of family members closest to him, yet there are also lighter moments and humor with cartoon drawings
by Ellen Forney
. A coming of age story that shows that great friendships may ebb for awhile, but they are also resilient and strong when you need them the most.