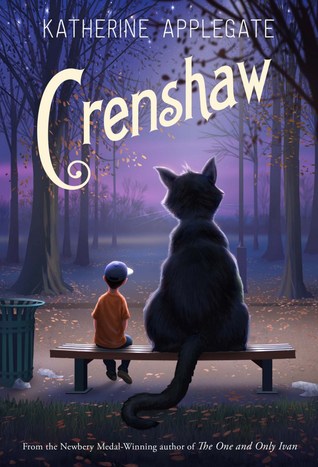 Crenshaw by Katherine Applegate
Age Range: 8 - 12 years
Published:
September 22nd 2015 by Feiwel & Friends
Genres: Realistic Fiction/Fantasy
Jackson is the kind of kid who likes facts, scientific facts, or facts about nature that can be explained. His mantra, "There is always a logical explanation for things," which should help him with becoming an animal scientist one day. He isn't the kind of kid who believes in make-believe things, but at one point he did have an imaginary friend named Crenshaw. Crenshaw first appeared when Jackson was seven and his family had to move into their minivan after his dad learned he had MS and couldn't work in construction anymore. Crenshaw stuck with Jackson over the next several months, until they moved into an apartment and Jackson met Marisol at school. Then Crenshaw seemed to disappear. That is until now. With Crenshaw's return, Jackson fears that they may be moving back into the minivan. All the signs are there, selling their belongings in a garage sale, not having enough money for rent and food. Jackson hopes he won't have to move away from his friend Marisol but what he really wants is for his parents to be honest with him.
Applegate chose some difficult topics to address in her middle grade book Crenshaw.
Worthwhile topics that are wonderful in developing empathy while providing a glimpse into what
homelessness is like, how some parents are struggling to make ends meet, and the challenges of not having enough food for their children to eat. Some children may even see this as a window into their own lives. Very difficult subjects, but also presented in a gentle way. A hard balance to make, but I feel Applegate accomplished this well. My only difficulty was with how the story felt as if this was Jackson as an adult telling the story of his youth. Yes, Jackson has been described as being "more grown up like and too serious" but it seemed to me that the story felt more like Jackson was reflecting on the past, he does reflect back at being seven, but for me there was a sense that now he was detached from the situation. Maybe it's also because I never got the sense that Crenshaw felt like a friend or comfort to Jackson. Elaborating more about their connection when he was seven might have helped. Maybe some of the fun times that they shared would have made Crenshaw's reappearance seem not like a dreaded thing. Jackson seems to attribute Crenshaw's return with the potential of being homeless again and even wants Crenshaw to disappear. For awhile, Jackson even closes his eyes and counts to ten,
" I squeezed my eyes shut and counted to ten. Slowly. Ten Seconds seemed like the right amount of time for me to stop being crazy." It's like he is trying
to make sure he isn't seeing things. It isn't until Crenshaw gives him advice about being honest and opening up with his feelings that Jackson hopes that Crenshaw will stay. What I did love about the story is the relationship between Jackson and his sister Robin. How he always seemed to have her interests at heart and looks out for her. I also adored Marisol and Jackson's friendship and loved how she confided that she had an imaginary friend too, and that you don't always have to understand something, but should just "enjoy the magic." I also enjoyed the resolution at the end where
Jackson's parents finally overcome their need to shield him and have a heartwarming conversation about their future. Crenshaw is a little over two hundred pages and is written in short chapters making it a very quick read. Given the need for more stories on this topic, I can easily see this making the rounds for teacher read-aloud's.
Crenshaw has been nominated for the Cybils award and my review reflects my personal opinion, not the opinion of the Cybils committee.