I'm frantically trying to get my reading in for the Cybils, so many of my upcoming reviews will be shorter then normal and more of a synopsis then full review.
The Girls of Gettysburg by Bobbi Miller
The Girls of Gettysburg follows three girls from May 1863 to the days following the Battle of Gettysburg. Annie wants to follow in her brothers footsteps by heading North disguised as a boy. She plans to join the Portsmouth Rifles of the Ninth Virginia Army by taking the place of a wealthy women's grandson. At the same time, Grace Bryan and Tillie Pierce are in Gettysburg. Grace is the daughter of Abraham Bryan, a free farmer who refuses to leave his property and flee from the advancing rebels. Grace hopes to stay with her father at all cost. Finally, there is Tillie Pierce, the daughter of a local merchant. Tillie has a naive view of war, believing the rebels will never invade Gettysburg, their troops will never allow it. I found the historical figures (Tille Pierce, Miss Mary McAllister, Abraham Bryan) and documents from the Civil War era that Miller utilized provided a human or more personal touch to the story. I especially enjoyed the introduction and authors note with further historical details about the Civil war gave me insights to facts from the Civil War that I had never known before. A compelling story that illustrates three differing views of the war.
I received a review copy from Holiday House for consideration for the 2014 Cybils award in Middle Grade fiction.
Just a Drop of Water by Kerry O'Malley Cerra
Jake and Sam have been friends since kindergarten, they've also been making plans to be co-captains of the cross country team since sixth grade. But when new boy, Kirk takes his spot, Jake is devastated. That is until the events of September 11th unfold. Things like cross country, end up taking a backseat, when your father is out of town and your not even sure if he is OK. Then details come out that the bombers lived in Jake's home town of Coral Springs and they even used Sam's dad's bank. Sam's dad even ends up being detained and questioned by the FBI because the family is Muslim and they find his business card among the bombers things. However, the most devastating thing is that Kirk's father was one of the people who was killed while working at the Pentagon. Just a Drop of Water illustrates the aftermath of the events surrounding September 11th. Both the targeting of Muslims and also those that came out in support. O'Malley Cerra provides many of the details that surrounded the events, including the initial pain people felt, worry, fear and then the growing sense of community, love of country and the appearance of American flags in peoples yards. A difficult topic but one with wonderful messaging.
I received a review copy from Sky Pony Press for consideration for the 2014 Cybils award in Middle Grade fiction.
The Brilliant World of Tom Gates by Liz Pichon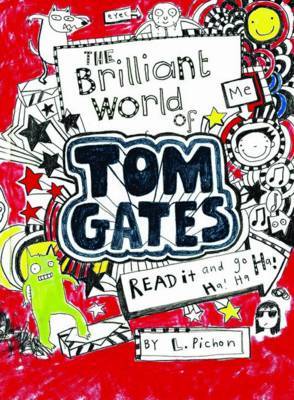 Tom likes to sit in the back of the classroom, it's so much easier to avoid Mr. Fullerman's beady eyes and he can read and draw his comics. But, Mr. Fullerman switches up the desks and Tom finds himself right at the front of class next to the most annoying boy, "Moany" Marcus and the "Brilliant" Amy Porter. The Brilliant World of Tom Gates is a notebook style novel that follows Tom's escapades as he tries to land tickets to a concert for his favorite band Dude3, while not getting in trouble for annoying his older sister or forgetting to turn in his homework on time. I think the illustrations are what makes this book. Especially those beady eyes staring down at Tom. My adult sensibilities wished Tom would have had more consequences for some of his behavior, but the intended audience I imagine wont mind this.
Missy Emily by Burleigh Muten
Mac Jenkins is the pastor's son and lives across the street from Ned and Mattie Dickinson. Ned and Mattie's aunt is Emily Dickinson and she lives next door to them in the town of Amherst. Miss Emily as she is affectionately known, sends a note inviting them all to join her in her garden. She has news and a plan. At the hour of midnight, the circus will be arriving by train. Miss Emily plans for them to join her in welcoming the circus to town. This is a gentle adventure story meant for a younger reader. It tells the fantastical tale of four adventurous friends sneaking out at night and the troubles that ensue. There is the addition of meeting the circus entertainers as well as putting on their very own production of a circus for the children's lovely neighbor Miss Emily. Included are wonderful black and white illustrations by Matt Phelan.
I received a review copy from Candlewick Press for consideration for the 2014 Cybils award in Middle Grade fiction.