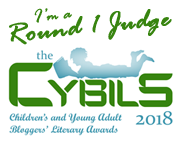 Today's the day, judges for the Cybils were announced and I'm very pleased to have been selected for the first round of
Elementary/Middle-Grade Speculative Fiction
. This will be my 5th year as a judge and I couldn't be more excited!!
Our work starts on October 1st and runs until October 15th.
2018 ElementaryMiddle-Grade
Speculative Fiction Judges:
@Tasses
Round Two Judges
@Smozer
Rosemary Kiladitis
@Roselo
Mark Buxton
Jennifer Naughton
@Jennie_Naughton
@FallingLetters
Congratulations to all the judges!!
Looking forward to our discussions on the nominated books!