I've been pretty busy lately with my Cybils reading, but I wanted to pop in for a few mini reviews.
Roz is stranded on an island after a terrible storm crashes the boat she was traveling on. Some helpful otters engage her power button and soon she is exploring the island. Roz not only needs to learn to communicate with the animals, soon she finds herself in the position of playing mom to a newly hatched gosling. Once Roz finally gets settled and manages to fit in with the animals, she risks being taken from the only home that she has ever known by her creators.
"Can a robot survive in the wilderness?" In Roz's case, yes they can with a little help from the animals on the island. I'm not quite sure why Brown chose Roz to be a robot, but I like to think that it was so that she could learn to communicate with the animals and learn a way for them all to get along.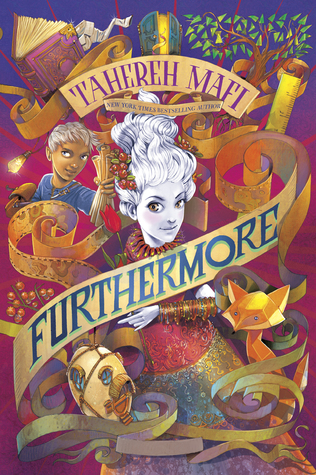 There are only three things that matter to twelve-year-old Alice Alexis Queensmeadow: Mother, who wouldn't miss her; magic and color, which seem to elude her; and Father, who always loved her. The day Father disappears from Ferenwood he takes nothing but a ruler with him. But it's been almost three years since then, and Alice is determined to find him. She loves her father even more than she loves adventure, and she's about to embark on one to find the other.

But bringing Father home is no small matter. In order to find him she'll have to travel through the mythical, dangerous land of Furthermore, where down can be up, paper is alive, and left can be both right and very, very wrong. It will take all of Alice's wits (and every limb she's got) to find Father and return home to Ferenwood in one piece. On her quest to find Father, Alice must first find herself—and hold fast to the magic of love in the face of loss. (From Goodreads)
This is my first introduction to Tahereh Mafi's writing and Furthermore has this rich tapestry of sights, sounds, and colors, I'm not exactly sure how to explain it, except it is a lot like the cover, very colorful. Here's an example of the writing, " The sun had begun its descent, and the sky had turned a dusty, smoky blue; ambers and golds and violets melted along the horizon and kaleidoscoped through the branches, snowflaking spectacular shapes of light across the land." The story itself kinda made me think of a mix of Alice in Wonderland, with The Lost Track of Time and The Phantom Tollbooth. Alice wanders across Furthermore, encounters danger and needs to navigate through different cities. I did like the premise of both Alice and Oliver having quests of their own.
Opening line: "The first time I knew for sure I was a Monday, I was sitting in one of Mrs. Flannagan's boring English Lessons last year in fourth grade."
Poppy Mayberry lives in Nova where everyone has special abilities that are based on the day of the week that you were born on. Poppy's ability is telekinesis, but she isn't very good at it and her rival Ellie can read minds, except she can't stop reading minds when she isn't supposed to in class. When the two girls cause a disruption at school, they get sent to Power Academy, a summer school that will teach them to control their abilities. While at the Academy, the Headmistress splits them into groups of four and gives Poppy's group an extra challenge, locate each of their precious items that she has stolen. If they are successful, then they can leave the Academy early.
Poppy Mayberry was a pretty quick read, for which I would have liked a bit more. I enjoyed how everyone had different abilities (telekinesis, teleportation, mind reading), well except for those Saturday and Sundays, who don't seem to have a talent. Though, Brown does include that not everyone can necessarily control their abilities right away.
Cooperation and working together seems to be a big theme, as it is the only way that Poppy's group is going to be able to find their precious items. This first book had a nice mix of boys and girls, and I hope Brown sticks with these characters in book two, cause there were some hints of romantic feelings between the characters. Overall, a very fun read.