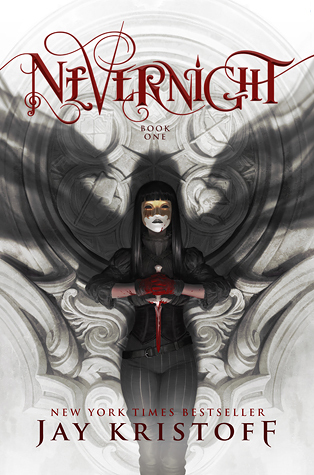 Nevernight by Jay Kristoff
E ARC, 465 pages
Expected Publication: August 9th, 2016 by Thomas Dunne Books
Genres: Fantasy YA/Adult
In exchange for an honest review,
an E ARC was received from the publisher for free via Netgalley
In a land where three suns almost never set, a fledgling killer joins a school of assassins, seeking vengeance against the powers who destroyed her family.
Daughter of an executed traitor, Mia Corvere is barely able to escape her father's failed rebellion with her life. Alone and friendless, she hides in a city built from the bones of a dead god, hunted by the Senate and her father's former comrades. But her gift for speaking with the shadows leads her to the door of a retired killer, and a future she never imagined.
Now, Mia is apprenticed to the deadliest flock of assassins in the entire Republic—the Red Church. If she bests her fellow students in contests of steel, poison and the subtle arts, she'll be inducted among the Blades of the Lady of Blessed Murder, and one step closer to the vengeance she desires. But a killer is loose within the Church's halls, the bloody secrets of Mia's past return to haunt her, and a plot to bring down the entire congregation is unfolding in the shadows she so loves.
Okay, that premise right? Doesn't it get you wondering? Plus that cover.
Back in January the Midnight Garden had a cover reveal for Nevernight and after reading the premise it instantly went on my TBR list. It has all the right elements, a girl who after her father is killed right in front of her enrolls for training in a special school for assassins to exact her revenge. I mean we have a special school, so there must be some classes, teachers. Anyone thinking Hogwarts?
Nevernight was my first introduction to Kristoff's books, and what an introduction.
The action and tone of the book are set during the opening chapter. There is no mistaking that what you're about it read is for a more mature reader. As the title of the first chapter states, "Caveat Emptor", or "let the buyer beware." So be forewarned, there will be sexual content and violence, Mia is training to be an assassin. That being said, I've already pre-ordered a copy to read it again it's so good.
I really enjoyed the world that Kristoff created with Nevernight, and how he seemed to be inspired by other books/movies. I don't want to spoil any of them, cause half the fun was reading along and then coming across a word or familiar scene or character from a book or movie. Although there was this one slang word that immediately drew my attention and had me wondering what time period were we in, it just seemed out of place. If you check out Kristoff's review of the book on Goodreads you'll see what I mean about influences and there is an excerpt at USAToday you could check out. Nevernight was a pretty unique world that knew only daylight due to its three suns and night occurs only occasionally. There's mention of the gods Niah and Aa and I believe this will become more important later in the series. Mia starts out in a city (Godsgrave) built on the burial site of a god and parts of the world building happen through endnotes, at least in the ebook version I was reading. Normally I like footnotes or even endnotes, but these ones were a bit of a challenge reading as an ebook. For one, they were at the end of the chapter, so no easy flipping of pages to match the note to its location in the storyline. For ease of reading, I wish that they were either incorporated into the story or at the bottom of the page I was reading. There is lots of good information and humor in here and unfortunately, it was difficult to make the connections since they weren't being read together. It's part of the reason that I ordered the hardcover, cause now I can flip back and forth if the endnotes are still at the end of the chapter.
Mia is my favorite part of the whole story. I got so wrapped up in her character from the very beginning. Even though at first all we know about her is that some call her Pale Daughter, Kingmaker or Crow and it isn't until partway through the beginning chapters that we finally know her name. I really just enjoyed reading about her and wanted to put together all the pieces. I liked how Kristoff alternates between telling Mia's story from her being ten to currently being sixteen, at first it gives the impression that Mia is vulnerable and mysterious. We learn that at
ten Mia see's her father die by a hangman's noose and her mother whispers to her "never flinch" "never fear" and "never forget." Her mother and brother are taken away from her, and Mia gets locked into a barrel and is ordered to be drowned in the canals.
Mia believes she is a weak, scared little girl, but yet she is so far from that. She is definitely a badass girl with her ability to control darkness and draw shadows to conceal herself and she has a remarkable inner strength. Then there's Mister Kindly, the cat who is not a cat, curling around her feet, or resting on her shoulder consuming her fears. How and what he is I wasn't entirely sure, but he is always there protecting Mia. The two are quite funny when they get to bantering with one another. T
here was also the Red Church, which in some ways does remind me of Hogwarts, except here you learn how to be an assassin and murder people. It's not a cuddly school, the classes and teachers are brutal, there is no forgiveness for failure here. But
Mia's a fighter, and she seems to find a way to overcome all the obstacles put in front of her. She is also loyal to those that she cares about. People like Tric, who has his own reasons for wanting to enter the Red Church, and becomes one of Mia's best allies when they do get there. Nevernight is one of the books that I know I will be reading again, heck I've already read it twice and pre-ordered it just to read again. I think Nevernight will be hugely popular with a more mature reader in mind.
Favorite Lines:
"She felt a presence--or closer, a lack of one. Like the feeling of empty at an embrace's end."
"Your mind will serve you better than any trinket. Brains you earn."
*Thank you to Netgalley and Thomas Dunne Books/St. Martin's Press for a copy of Nevernight in exchange for an honest review.*