I've been busy as a bee reading for the Cybils, for which I'm a round one judge for Middle Grade Speculative Fiction.

Unfortunately, this means my poor old blog has been gathering dust while I've been catching up on all my book reading. And how did it get to be 10 days til Christmas?? So, I thought a little update was in order.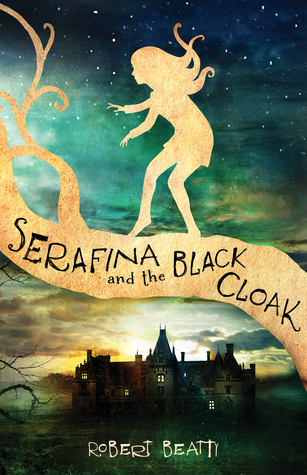 Published by: Disney Hyperion July 14th 2015
Genres: Fantasy
Format:
Hardcover
Source:
Library
Series: Book 1 in the series with
the sequel, Serafina and the Twisted Staff coming August 2016
Blurb from Goodreads "Serafina has never had a reason to disobey her pa and venture beyond the grounds of the Biltmore estate. There's plenty to explore in her grand home, although she must take care to never be seen. None of the rich folk upstairs know that Serafina exists; she and her pa, the estate's maintenance man, have secretly lived in the basement for as long as Serafina can remember.
But when children at the estate start disappearing, only Serafina knows who the culprit is: a terrifying man in a black cloak who stalks Biltmore's corridors at night. Following her own harrowing escape, Serafina risks everything by joining forces with Braeden Vanderbilt, the young nephew of the Biltmore's owners. Braeden and Serafina must uncover the Man in the Black Cloak's true identity . . . before all of the children vanish one by one.
Serafina's hunt leads her into the very forest that she has been taught to fear. There she discovers a forgotten legacy of magic, one that is bound to her own identity. In order to save the children of Biltmore, Serafina must seek the answers that will unlock the puzzle of her past."
My Thoughts:
I enjoyed reading about Serafina and her father and their life living in the basement of Biltmore estate. There are quite a few historical aspects about the setting giving it a sort of Victorian feel, although the setting is Asheville, North Carolina. The mystery surrounding the disappearing children and the means in which they disappeared certainly held my interest.
Serafina is an intriguing girl and I couldn't help feel for her in her desire to make friends and to be seen. There is also a nice mystery surrounding Serafina's mother and how Serafina came to live with her father. Nice blend of mystery, historical fiction and a little paranormal thrown in.
Published by: Aladdin June 9th 2015
Genres: Fantasy
Format:
Hardcover
Source:
A review copy was received from the Publisher for the Cybils
Series: Book 1 in the series with
the sequel, The Circle of Lies to be released February 16th, 2016
Blurb from Goodreads: "
Four girls at a southwestern boarding school discover they have amazing feline powers and must unite to stop an ancient evil in this riveting adventure.
Ana's average, suburban life is turned upside down when she's offered a place at the exclusive boarding school in New Mexico that both of her late parents attended. As she struggles to navigate the wealthy cliques of her new school, mysterious things begin to occur: sudden power failures, terrible storms, and even an earthquake!
Ana soon learns that she and three other girls - with Chinese, Navajo, and Egyptian heritages - harbor connections to priceless objects in the school's museum, and the museum's curator, Ms.Benitez, is adamant that the girls understand their ancestry.
It turns out that the school sits on top of a mysterious temple, the ancient meeting place of the dangerous Brotherhood of Chaos. And when one of the priceless museum objects is shattered, the girls find out exactly why their heritage is so important: they have the power to turn into wild cats! Now in their powerful forms of jaguar, tiger, puma, and lion they must work together to fight the chaos spirits unleashed in the ensuing battle... and uncover the terrifying plans of those who would reconvene the Brotherhood of Chaos."
My Thoughts: I really liked the diversity in Hunters of Chaos with the introduction of the four girls coming from differing heritages, Mayan ,
Anasazi (
Navajo ancestors), Egyptian and Chinese. Although, there isn't a lot of historical information given about each, there is some mention of artifacts and bits about excavating a site that appears after an earthquake. The setting of a boarding school, was fun to read about. I also enjoyed the shape shifting abilities that the girls had, even though there are a few gory instances of their "cat like skills" being used to tear up their opponents. Nice mix of action and it includes the character of Anubis, which is always a bonus for me.
Disclaimer Both of these books were
nominated for the Cybils award and my reviews reflect my personal opinion, not the opinion of the Cybils committee.