Today is the day that the MG Fiction shortlist comes out and I thought I'd reflect on some of my thoughts AND Finalists, can't forget the finalists list. I've followed the Cybils for the past few years and even nominated a book here and there. This year, I finally decided I would take the plunge and apply. I feel most fortunate for having been selected as a round 1 judge for the MG category and enjoyed discussing books with my fellow judges.
Some of the things I learned:
1. There will be a lot of books nominated, 139 in MG Fiction alone. But with a library card in hand, inter-library loans and the generosity of publishers, you can almost read most of those books. Those last eight were really elusive. I still wish we had a bookstore that sells new books in town, Costco and Target just aren't the same.
2. MG Fiction encompasses a wide range of topics, has you travel to other destinations and times, and included some lovely diverse characters. Yeah for #WeNeedDiverseBooks this year.
3. I also learned that MG Fiction made me read with a box of Kleenex near by for those sad moments. And yes, boy were there a lot of those too, I think it's why Ms. Yingling developed the "
Sparkly Unicorn label." But oh, there were some beautiful heartfelt stories that I want everyone to read.
4. It's OK if I don't finish a book. Yep, it was a hard lesson to learn. Although, I still have to read at least 50%, because well it might get better. Yeah, I'm an optimist.
5. Finally, being on the Cybils helped me to look deeper in the books that I'm reading and reviewing and to always keep in mind that it's about the Middle Grade reader. Is this a book that they would want to read and recommend to their friends?
Would I do the Cybils again? You bet!
Now the Finalists for Middle Grade Fiction....
Bajaj, Varsah.
Abby Spencer Goes to Bollywood
Albert Whitman and Company
Nominated by Flowering Minds
Abby Spencer is, almost, your typical 13 year old. She has great friends, plays the violin, and rolls her eyes when her friend flirts with the older boy at the yogurt hut. Abby is raised by her single mom in Houston, Texas. Abby knows that her father returned to India, but she really wants her father. After a severe allergic reaction Abby's mom seeks out her father to see if there are other medical issues. It is then that Abby and her mother discover that Abby's father never knew that her mom was pregnant. They, also, discover that Abby's father is a huge Bollywood actor. Thus the adventure begins when Abby travels to Mumbai to meet her dad.
Abby Spencer Goes to Bollywood by Varsha Bajaj is a delightful middle grade novel. Ms. Bajaj includes the magic of a famous Bollywood actor and the harsh reality of the poverty of Mumbai. The reader has the opportunity to see that Abby is a carefree girl, but struggles with learning how to adapt to different cultures, both Hindi and that of a wealthy father she has never met
Dairman, Tara.
All Four Stars
Nominated by Jenny Goebel
Gladys Gatsby is a young food critic who loves to cook just as much as she loves to talk about the foods she tries. Her parents feed her microwaved meals and take out, completely oblivious to her interests… until a blow torch incident in the opening chapter threatens to burn up Gladys's dreams along with the kitchen curtains! When an opportunity to write for a major magazine as a replacement food critic presents itself, Gladys knows they think she's an adult but is convinced she has to take the job to prove herself to her parents.
Dairman manages to create a perfect balance between almost over-the-top silly scenes and the real-life concerns of family and fitting in for a middle grade girl chasing her dreams. The cast of secondary characters contributes to the plot and Gladys's growth with just the right amount of spice. All Four Stars is a tasty book that will have readers begging for a second helping.
Gephart, Donna.
Death By Toilet Paper
Delacorte Press Books for Young Readers
Nominated by Cathy Potter
http://www.nonfictiondetectives.com/
Death by Toilet Paper is a hilarious novel about a boy who enters contests in hopes of helping his mom out financially.
Ever since his father died, Ben has taken it upon himself to be the man of the house which hasn't been easy lately. There's the threat of being evicted from their place, the stress of middle school, and the surprise of having his grandfather move in with them. He's sure that if he can come up with a clever slogan for Royal-T Bathroom Tissue, the grand prize money will solve their problems.
While addressing serious issues such as the loss of a parent and school bullying, I found Ben's coping skills to be funny and refreshing. Readers will root for him and his money making schemes. Donna Gephart portrays a family who is learning to live with their new realities in honest and heartbreaking but hopeful ways.
Johnson, Terry Lynn.
Ice Dogs
HMH Books for Young Readers
14-year-old Vicky knows that the key to winning the White Wolf dog sledding race will be acquiring just the right team of dogs. But after her dad died during a sledding race, Vicky's mom is cautious about her competing and even refuses to take her to the dog yard to find some more race leaders. Vicky waits until her mom leaves and takes off on her dog sled. Using her dad's knowledge of dog sledding, skills in trapping and some supplies against the harsh winter conditions, Vicky is confident that she can find the way on her own, Even with the best laid plans, she didn't anticipate finding an injured boy involved in a snowmobile accident. Vicky tries to help him find a path back to safety for some needed medical help. When they get hopelessly turned around on the trail, Vicky needs to use all of her skills, experiences and the strength of her beloved dogs to get them home.
Drawing from her own personal life experiences as a musher, Terry Lynn Johnson has written a compelling survival story. Ice Dogs appeal comes from immediately immersing the reader in the gripping details of the cold harsh Alaskan woods, the constant struggle for their survival and warmth, the reality of needing to find civilization quickly, and their race against time. The overall strength that Vicky portrays, as well as the individual personalities of each of her dogs, gave this story instant appeal.
Pitchford, Dean.
Nickel Bay Nick
Nominated by Always in the Middle
Someone has been spreading cheer throughout the depressed town of Nickel Bay for the past seven years by secretly passing out $100 bills, but he hasn't been heard from during this Christmas season. Meanwhile, Sam is a problem child. It's been years since he had his heart transplant, but he's now hanging out with older kids, vandalizing property, and stealing from stores. However, he makes a big mistake when he destroys the Christmas decorations of the old man down the street. It turns out this man in a wheelchair was once an international spy, and he has collected enough private information to blackmail Sam. He forces Sam to use his skills as a liar and thief to sneak into stores and people's pockets, and it causes quite an uproar. Sam must continue to follow orders, while avoiding the police, or he'll be taken from his father and sent to a juvenile facility.

This book is a feel-good story. Sam's missions are surprising adventures and share a positive message for readers. Although he seems to be a sassy, self-centered boy, Sam's missions allow his good qualities to shine. The author is able create a sense of mystery surrounding the old man and Sam's travels through the city offer suspense. The book shares a heart-felt tale of adventure and shows the power of giving second chances.
Mark Buxton, Buxton's Blog O'Books, http://buxtolicious.blogspot.com/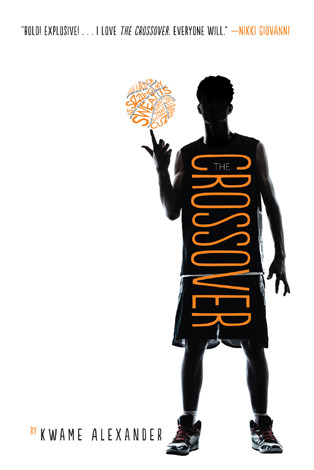 Alexander, Kwame.
The Crossover
HMH Books for Young Readers
Nominated by Brandy Painter
Twins JB and Josh Bell both play basketball, but have different styles on and off the court. JB showboats a little less and concentrates more; Josh is loud and proud and fond of rap-style poetry. The boys' mother is their school principal, and their father is a former basketball player who is an at-home dad because of his ill health, so when JB and Josh have arguments or get in trouble, they know that their parents will take them to task, but always with good humor. When their father doesn't take care of himself, however, sports and school take a back seat to a family emergency.
Told in free verse that supports Josh's fondness for rap, Alexander's book will appeal to readers who like their sports books short and snappy with a side helping of serious issues.
Karen Yingling, Ms. Yingling Reads, http://msyinglingreads.blogspot.com
Sovern, Megan Jean.
The Meaning of Maggie
Nominated by Compass Book Ratings
In the 1980s, eleven-year-old Maggie wants to be president one day. Maggie is engaging and quirky, and manages to retain her sense of humor and light as she navigates middle school and family life. There are Science Fair and Student of the Month titles to defend, Coca-Cola stock to keep an eye on, and her family can't seem to operate without her. Her family's challenges may increase, especially has her father's health fails due to his struggles with multiple sclerosis, but she keeps moving forward, often propelled by her close relationship with her dad, who also uses his sense of humor to hang on as things fall apart around him.
The author draws upon her own life to tell Maggie's story, bringing a real authenticity to Maggie's voice. Anyone whose lives have been touched by chronic illness will appreciate this story.