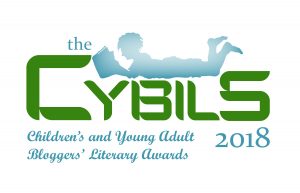 I'm always excited to be a round one judge for the Cybils (Children's and Young Adult Bloggers Literary Awards). This year there were 117 books nominated in
Elementary/ Middle-Grade Speculative Fiction, of which I was able to read 92. Now these seven finalist's move on to the second round judges, with a winner being selected in February. I'm also excited that Front Desk by Kelly Yang and The Orphan Band of Springdale by Anne Nesbet, which were on my armchair Cybils shortlist list will also be moving on to round two! Here are the blurbs for the books that we selected and you can see the complete list here. Happy New Year to you all. Brenda


Have you ever had an inkling that something was about to happen? For the Rylance family things have been tough since Mom died. Dad has writer's block, Ethan's school project is overwhelming and Sarah, who has Down's Syndrome, is fixated on getting a puppy. Then, one night, a little blot of ink jumps off Dad's sketchbook and begins to explore the world by devouring the books it encounters. Ethan names it Inkling, and its inquisitive and caring nature helps the Rylance family work through their grief and learn about themselves. Thought-provoking dilemmas, great characterization, and a swift plot, all make this a book that kids will devour.
It's not easy being the youngest of 5 sisters, but what makes it worse for Leo is being told she is too young to help in the family bakery for the annual Dia de los Muertos festival. To top it off, the family secret is revealed by accident – they are Mexican brujas, who put magic to work in their baking! Leo knows could help, if they'd let her. When her best friend starts to fall for a boy, she decides to test her baking magic and prove her talent so she can join in the family traditions. It's magically realistic, with a family that makes mistakes and forgives and fills the pages with baking love. Readers will warm to this story full of spells going hilariously wrong, baking, family love and friendship.
Cursed from the day she was born, Morrigan never expects anything good to happen to her. Then, on her eleventh birthday, she is whisked away to the secret, magical city of Nevermoor and invited to compete in the trials to become a member of the Wundrous society. There is plenty of suspense and action as readers follow Morrigan through the trials, hoping that she will be chosen to stay. This is a very readable fantasy adventure that will keep readers wondering what will happen next, and especially delight Harry Potter fans!
Wily Snare has never left the Carrion Tomb, where he works as a trapsmith for its cavern mage Stalag, designing elaborate traps to foil treasure seekers. Then an acrobatic elf, a moss golem, and a former knight with a floating arm named Righteous evade all of his traps, ambush Stalag and take his most valuable treasure, Wily himself. They want Wily's quick fingers, wit, and ability to detect and disable traps to raid some of the most challenging dungeons in the realm. But by the end of their adventure, treasure isn't important to the group–they have become a family. Snared is an action-packed and heartwarming adventure filled with twists and turns and memorable characters, that's sure to captivate fans of dungeon crawling.
Life is hard for the kids who clean the chimneys of Victorian London, especially if the kid is a girl. Nan Sparrow was once looked after by the Sweep, who made her story soup when times were tough. But since his disappearance, Nan's been forced to climb chimneys for a cruel master. Then the glowing coal the Sweep left her becomes a living creature of ash, her friend and protector, "Charlie." Nan's adventure is a heartwarming journey of the magic of love and story, full of vividly drawn characters, from the cruel sweep master Crudd to Nan's friend the mudlark Toby Squall and the kind teacher Miss Bloom – the last two keeping their Jewish heritage a secret from almost everyone but Nan. And Charlie, the soot "monster," is the most marvelous of all.
For Mayka, a living girl carved from stone, and the rest of her stone family, the stories of their lives are carved directly onto their surfaces by their maker, and as the marks erode so do they. When there is no one left to refresh the carvings, Mayka ventures into the world of humans to find someone to take up the task, but she learns that not all people can be trusted and that the rules may be different for people of flesh and stone. Old fears and secrets (and a giant carved monster) must be confronted before she finds a way to save her stone family and their stories. This unique fantasy world offers both adventure and thoughtful contemplation about selfhood and story.
No one would have picked Thisby Thestoop to be the heroine of a great adventure. And yet, this foundling girl (whose only friend is a slime named Mingus), who lives in a dungeon, feeding and cleaning up after its monsters, saves a prince and princess. The perilous journey of the two very different girls, Thisby shy and grubby and Iphigenia beautiful and entitled, shows how a friendship can be made under the most challenging of circumstances, and the challenge of maintaining a friendship even when trust is broken. Witty, funny, and full of feeling, with memorable characters, both major and minor, this will appeal to gamers and fantasy fans of all stripes, especially those who are looking for real characters with whom they can sympathize and identify.