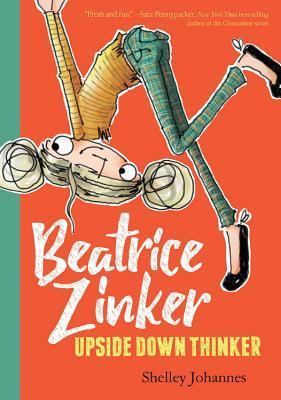 Beatrice Zinker Upside Down Thinker by Shelley Johannes
Publisher:
Disney-Hyperion
Format: Hardcover
Published:
September 19th, 2017
Source: Library
Opening Lines: "Beatrice Zinker always did her best thinking upside down. It worked like magic and she never questioned it."
Since first grade, Beatrice's best friend has been Lenny. They've had some of the best of times climbing trees, dressing in costumes for Halloween and acting like pirates and ninjas. Then the Summer before third grade everything began to change. Lenny went to the Philippines to visit family and Beatrice spent her vacation working on the secret operation that she and Lenny had agreed upon before she left on her trip. They even had plans to wear their favorite matching ninja suits for the first day back to school. But then Lenny
apparently broke her promise about wearing her ninja suit to school and
shows up with a new look entirely. Now she's even hanging out with a new girl, Chloe, asking about Beatrice's older sister's foreign language club and making plans to play "veterinarian" with Chloe in their favorite spot for recess. Lenny doesn't even seem interested in Operation Upside or Beatrice anymore, so Beatrice has a new mission to win back her best friend.
Beatrice Zinker Upside Down Thinker was a book I heard about during #MGbooktober, one of the organizers, Jarrett Lerner also raved about it and I love when authors celebrate other authors. I also happened to get lucky enough to find it at my library. Beatrice reminded me a bit of Clementine or maybe even Ramona Quimby or Pippi Longstocking. While they have similar personalities like following their own path, Beatrice doesn't get into nearly as many predicaments as the other three. Beatrice is a pretty determined girl who tries really hard to be on her best behavior at school and follow her teacher, Mrs. Tamarack's rules, partially because she doesn't want to risk missing out on her recess and because she wouldn't be able to play with her best friend. Johannes has written and illustrated a truly adorable and humorous book and I loved Beatrice's upside down thinking. How she doesn't use the box lid as a guide when putting together her puzzles and prefers to eat dessert before starting her meal. Beatrice is also tenacious in trying to be a part of Lenny and Chloe's game of "veterinarian, " despite Lenny making all of these new changes in her appearance and seeming to cut her out of their games. It makes me sad to think that sometimes kids feel like they have to re-invent themselves to fit in, especially when they leave their friends behind in the process. But, Beatrice does nicely illustrate how you shouldn't give up on your friends, how it's important to be who you are, and she also finds a way to show Lenny that you can like many different things at the same time while still being willing to try something new. One of my favorite parts is Beatrice's family and how they adjusted their thinking, with her older sister making room for Beatrice in her foreign language club and her parents have a night of eating dessert before dinner. Overall, a very sweet and encouraging chapter book which I'm excited to see already has a sequel, Beatrice Zinker Upside Down Thinker, The Flipside coming out in March 2018.