Top Ten Tuesday
is a Meme hosted by
The Broke and the Bookish
This week's Top Ten Tuesday is Top Ten Books on my Fall TBR.
September releases: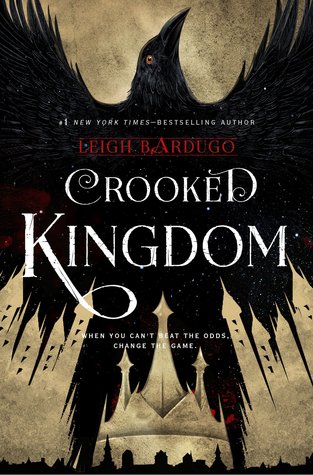 1
Crooked Kingdom

(Six of Crows #2) by Leigh Bardugo
releases today! I'm fairly certain it is going to be on a lot of lists.
2
Insert Coin to Continue

by John David Anderson
released September 20th, 2016
When Ms. Yingling raves about a book I instantly take note. Plus I really enjoyed The Dungeoneers
and Ms. Bixby's last Day.
3
The Great Shelby Holmes

by Elizabeth Eulberg
released September 6th, 2016
A twist on Sherlock Holmes taking place in Harlem, New York were two kids solve mysteries in their neighborhood.
4
released September 2nd, 2016
Historical fiction set in East Berlin, sounds very interesting.
released September 13th, 2016
This is a retelling of Jack and the Beanstalk set on a distant planet with a boy who has synesthesia. I'm really curious about the premise and enjoyed Grau's Dr. Critchlore's School for Minions series.
October releases:
6
A Tale of Camelot: Mice of the Round Table

by Julie Leung
releases October 4th, 2016
I'm intrigued by the cover and premise. I do enjoy animal stories and this reminds me a bit of Tale of Desperauex and Brain Jacques' Redwall mixed in with the retelling of Camelot.
7
Mabel Jones and the Doomsday Book

(Mabel Jones #3) by Will Mabbitt
releases October 4th, 2016
Mabel is just so adorable in her pj's and bunny slippers, swinging a cutlass. These are always a fun read filled with lots of action, and I really enjoy the illustrations by Ross Collins.
8
releases October 11th, 2016
Sounds like an interesting world, maybe some intrigue. Saw a review from fellow blogger Shannon O'Donnell and thought I would add it to the TBR list.
9
Fantastic Beasts and Were to Find Them: The Original Screenplay

by J.K. Rowling
releases November 19th 2016
Pretty much going into the ever growing collection of books by J.K. Rowling.
10
Lodestar (Keeper of the Lost Cities Book #5)

by Shannon Messenger
releases November 1st, 2016
Continuing on with the series. Isn't that cover gorgeous? Really want to see what happens next.
So, I'm a little light on what's releasing in November, anyone know of any titles that I must keep my eye out for?
What made it on your list? Feel free to leave your link in the comments.