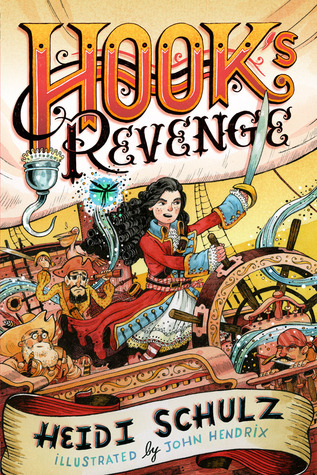 Sir Charles has become fearful that his granddaughter Jocelyn will never become a proper lady, so he chooses to send her off to Miss Eliza Crumb Biddlecomb's Finishing School for Young Ladies. But, twelve-year-old Jocelyn has always dreamed of one day becoming a pirate and sailing with her father Captain Hook on an adventure. Life at finishing school is not what Jocelyn had in mind because everyone seems to detest her, her roommate has an affinity for pink, she's been assigned a maid servant to dress and bathe her, and all she hears day in and day out is "don't slump" and "sit up." The only upside is when she meets Roger in the carriage house and the two quickly become friends, but Miss Eliza decides that Roger isn't a good influence on Jocelyn and sends him away. Jocelyn feels it's time she left the finishing school too, but when a letter from her father arrives asking her to "avenge my death. Come to Neverland, hunt the beast and destroy it..." this may just be the adventure that Jocelyn has been waiting for.
I absolutely adored Hooks Revenge. It is a very sweet story about a girl that longs for her mother, father and a little adventure in her life. I loved Jocelyn's seemingly look of "wide-eyed innocence," while at the same time she is brandishing swords, carrying spiders in her pocket, and coming to the dinner table with "twigs in her unruly dark curls, muddy knees, and grass stains on the seat of her pants." Jocelyn was such an endearing character she speaks to you with her willfulness and tomboyish ways. She is also very resourceful when put in a bind. Yet, there was also this softer side to Jocelyn, that was filled with self doubts and a desire to live up to the Hook family name. Jocelyn seemed to struggle over wanting to do what she felt her father expected of her, but also not wanting to fail. Jocelyn really grew throughout the story, she became more confident in herself and started to see what really mattered to her.
While at the finishing school Jocelyn meets Roger. It's like kismet, they both want to be pirates, have adventures, and they spend time together reading books and looking at maps. Roger is the one who helps Jocelyn figure out how to fit in with the expectations at her school by saying "the way I see it is this: When it comes to your lessons. Miss Eliza pipes and you have to dance - but who is to say you can't choose your own steps?" They make for a great team and their friendship shines throughout the story. Plus, the bantering is quite humorous.
Schulz defiantly plays homage to Peter Pan by J.M. Barrie
in Hooks Revenge. There are plenty of mermaids, Peter Pan, fairies, pirates, and even the dreaded crocodile with his tick-toking clock. But for me, it's the wonderful voice of the unknown narrator who provides the laugh out loud dialogue. There is something comforting in that voice that I just can't put my finger on. Don't get me wrong though, the narrator is kind of cantankerous too, but oh so funny, like this line: "There is no use putting it off any longer; it is time to tell what I know, lest the girl's story die with me. Settle in, I suppose. Do be sure not to touch anything, and for heaven's sake, please don't breathe so loudly. If you're comfortable, I'll pour myself a little drink and begin. If you are not comfortable, I'll begin anyway. Your comfort is of little concern to me." Hook's Revenge is a wonderful story that will easily appeal to boys or girls who are looking for swashbuckling pirates and a little adventure of their own.