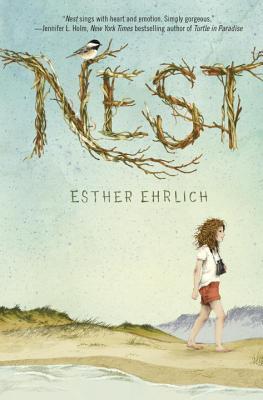 Nest by Esther Ehrlich
Expected Publication: September 9, 2014
by Random House Books for Young Readers and Wendy Lamb Books
Pages:
Hardcover 336 pages
Format:
Ebook received from publisher
Source: In exchange for an honest review, an ARC was received from the publisher for free via NetGalley.
From Goodreads: "For fans of Jennifer Holm (Penny from Heaven, Turtle in Paradise), a heartfelt and unforgettable middle-grade novel about an irresistible girl and her family, tragic change, and the healing power of love and friendship. In 1972 home is a cozy nest on Cape Cod for eleven-year-old Naomi "Chirp" Orenstein, her older sister, Rachel; her psychiatrist father; and her dancer mother. But then Chirp's mom develops symptoms of a serious disease, and everything changes.
Chirp finds comfort in watching her beloved wild birds. She also finds a true friend in Joey, the mysterious boy who lives across the street. Together they create their own private world and come up with the perfect plan: Escape. Adventure. Discovery.
Nest
is Esther Ehrlich's stunning debut novel. Her lyrical writing is honest, humorous, and deeply affecting. Chirp and Joey will steal your heart. Long after you finish
Nest,
the spirit of Chirp and her loving family will stay with you. "
Nest is a poignant, heart-felt historical fiction. A story that may not be an easy read due to some tough themes and the emotions that they invoke, but has some touching moments filled with family, friendship and love which balance things out. We are first introduced to bird-watching Chirp, who is observant, cheerful, friendly and just the kind of character that wins you over right away with her backpack full of bird-watching supplies. Ehrlich does a remarkable job of illustrating
Chirp's fun personality in the way that she's dancing and singing with her mother and older sister Rachel. The descriptions of Chirp's mom wrapping her arms around her giving off the smell of "lavender and lemons" as she calls her "Snap Pea" were wonderful to read. These early interactions between the mother and her two daughters really drew me into
Chirp's family.
Their relationships come off authentic and believable. Especially the relationship between Naomi and Rachel, the things they say and do are the sort of love/hate relationship that siblings often have. T
hen when their mothers
disease progresses, we are left with
all these complex emotions.
N
ot just Chirp's, but all the characters in the story are impacted. Ehrlich
captures the worries and fears the family is going through and presents an honest look at how the family attempts to cope with them.
There is
lots of sensitivity to the age of the audience, but I think this is the kind of book a family would want to read together.
My favorite characters were Joey and Chirp, their friendship was sweet and caring.