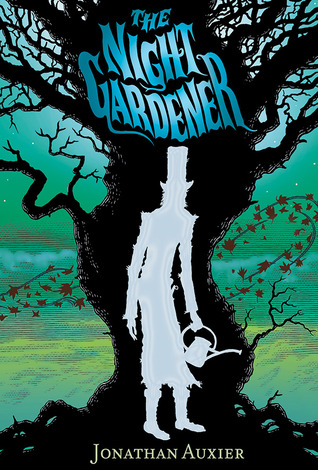 The Night Gardener
by Jonathan Auxier
Published May 20th 2014 by Harry N. Abrams
Pages:
361
Format:
Hardcover
Source: Library copy
From Goodreads
: "The Night Gardener
follows two abandoned Irish siblings who travel to work as servants at a creepy, crumbling English manor house. But the house and its family are not quite what they seem. Soon the children are confronted by a mysterious spectre and an ancient curse that threatens their very lives. With Auxier's exquisite command of language,
The Night Gardener
is a mesmerizing read and a classic in the making."
I love that cover, it fits the mood of the book so well, dark, creepy, mysterious. With its gnarled branches winding around to the back page and the leaves twirling through the air, man it's down right creepy. Then we have the eerie image of The Night Gardener himself, portraying someone who is just tending to his garden with a water can, yet he is so much more than that. I really enjoyed the creepiness of the story, the kind that gives you the feeling of hairs raising up on your neck. Especially when there was such a sense of danger for Molly and Kip. I really couldn't put the book down even though I started to suspect the direction the story was going to take, I felt like Molly, I kept coming back to see what would happen. The changes happening to her as she received her wish were saddening and yet I needed to know how she and Kip were going to fix things. I really hoped they would fix things and bring about a happy ending. At one point, I wasn't sure it would happen. As dark as the book feels at times, there are also beautiful moments between these siblings. Molly, who has been her brothers guardian and protector of a secret, and Kip who is kind, gentle and trusting. It was so sweet when she gave him a button and told him how it will make his wishes come true and how he kept it in his pocket as his prize possession. The Windsor family, with siblings Alistair and Penny. I disliked Alistair bullying the other children and just adored Penny, who just wanted someone to read her a story and play with her. Their parents on the other hand were wrapped up in their own problems to see that the effects the mysterious house and Night Gardener were having on them.
Then there is Hester Kettle, who I really enjoyed. She is the storyteller that Molly and Kip meet at the crossroads, she imparts advice, knowledge and is the one who ultimately helps Molly determine the difference between a story and a lie.
Auxier is a wonderful storyteller, I love how in his author's note he talks about the literary inspirations for his story and how he wove them into The Night Gardener was wonderful. I also really appreciated that he included historical details about the Great Famine in Ireland to enrich Molly and Kip's characters and provided some context as to how they came to England. Overall, a beautiful creepy story with themes of family, trust, faith, courage and storytelling. This would be a perfect read for a MG'er that can handle the creepiness and one who won't easily be frightened.