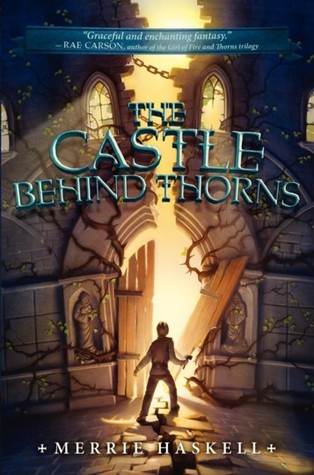 Sitting across the valley is Sundered Castle, so named because the castle was broken apart some twenty-five years ago. Some say it was due to an earthquake, but now everyone has pretty much forgotten about the castle as it sits surrounded by thorns. That is until Sand finds himself waking up among the cinders of the fireplace within the castle. How he got here he has no recollection of, but he soon comes to realize that everything within the castle has been broken. Sand takes to wandering from room to room assessing the damage, until he comes to the tombs and finds the corpse of a young girl on the dirt floor. Feeling uncomfortable with her lying there, Sand decides that the only thing to do is to put her "to rights" back in her crypt and return home to his family. Yet, leaving the castle becomes impossible, for the raspberry brambles cover the entire gate and there is no way to get under, over or around them and even if you try the thorns will try and prick you which can be poisonous. Sand soon finds himself having to search for anything left among the rubble in the pantry to make into food and he uses the skills he learned from his grandfather the blacksmith to fix the things that he can. At the same time, Perrotte wakes in the darkness of the crypt and realizes that she has died but is no longer dead and that she died under mysterious circumstances. Slowly the two find each other and they work together to mend the castle and themselves.
I really enjoyed Haskell's twist on Sleeping Beauty. Sand is such a determined young boy and has such a sense of right and wrong. I love how he doesn't just brood about being in the castle all by himself and instead sets things in motion to find food for himself from the broken spices and items left in the pantry. Even getting water becomes a huge task, but Sand uses his imagination and crafts things out of the broken items as best he can. Perrotte initially comes off as a rude, spoiled princess even demanding that Sand call her "my lady." She is so filled with rage and grief that she believes that she can just cut through the thorns and then her enemies.
But Perrotte's grief comes from learning that she is the last heir of the castle and finding yourself trapped within its walls becomes very overwhelming. Plus she is trying to understand the memories and flashes she has about her past. I so loved how Sand and Perrotte develop a wonderful caring friendship and when Perrotte drags Sand's mattress next to hers so that they both won't be alone it's a touching moment and the beginning of a beautiful strong bond between the two. Overall, there is a lovely message of forgiveness and how sometimes somethings can't be mended or we may just need to mend ourselves. Many thanks to Harper Collins Publishing and Goodreads for this advanced reading copy. The Castle Behind Thorns is set to be released on May 27th, 2014 by Katherine Tegen Books.
I especially liked this starred review from Publisher's Weekly
*ETA 5/14 Review copy released to fellow book blogger (playing it forward).