Hard to believe it's already the second week of 2017, especially since I spent the beginning of the month recovering from a nasty cold and it feels like everything went by in a haze. I still have the sniffles, but things are looking up and I'm ready to recap the Cybils and look on to books coming out this year.
Boy, was it another fun Cybils year of reading Elem./MG Speculative Fiction. There were something like 115 books nominated and I was able to read 95. Which roughly translates to about 30, 000 pages. Not too shabby. I'm always excited to see what gets nominated but really just love reading the books that were selected. One of these years I will read all of the nominations. I'm really happy with the semifinalist's list and can't wait to see who the final winner will be, but here are some of my personal favorites that were nominated this year:
It should be no surprise then that some of these authors sequels will be on my 2017 list of books that I want to read.
Middle-Grade books I'm looking forward to in 2017 Books
Dream Magic by Joshua Khan
Format:
Hardcover
Publisher:
Disney-Hyperion
Publishing:
April 11th, 2017
Why I want to read Dream Magic:
Shadow Magic was one of my favorite reads from the Cybils this year and I really enjoy the world of Gehenna.
People throughout Gehenna are disappearing, even the feared executioner Tyburn. Many of the nobles believe the kidnappings to be the work of the northern trolls, raiding south for the winter, and when Baron Sable and others head off to fight them, Castle Gloom is left guarded by only the squires.
Lily is struggling with her growing necromantic powers. The castle fills with ghosts, drawn like moths to a flame by the brightness of her magic. Zombies roam the country, some left over from those raised in SHADOW MAGIC, others awakened by Lily. Families are troubled by the returning dead, so Lily tries to incorporate them into day-to-day life, much to the resentment of the living.
Then Lily is attacked in her own castle by a mysterious sorcerer known as Dreamweaver, a young man determined to conquer Gehenna using jewel-spiders, strange crystalline creatures whose bite doesn't kill, but sends victims to sleep. Lily soon discovers that Dreamweaver is harvesting dreams to fuel his magic.
Lily enters the realm of sleep known as the Dream Time, in an attempt to awaken all the captive dreamers. Instead she finds herself trapped within a dream, one where her family is still alive. With the help of Thorn and the ever loyal Hades, she must somehow overcome the evil Dreamweaver by using his own magic against him – and reclaim her kingdom.
Short by Holly Goldberg Sloan
Format:
Hardcover
Publisher:
Dial Books
Number of Pages
: 304
Published:
January 31st, 2017
Why I want to read Short:
The cover grabbed me and
I really enjoyed Sloan's Counting by 7's.
Julia is very short for her age, but by the end of the summer run of
The Wizard of Oz
, she'll realize how big she is inside, where it counts. She hasn't ever thought of herself as a performer, but when the wonderful director of
Oz
casts her as a Munchkin, she begins to see herself in a new way. As Julia becomes friendly with the poised and wise Olive - one of the adults with dwarfism who've joined the production's motley crew of Munchkins - and with her deeply artistic neighbor, Mrs. Chang, Julia's own sense of self as an artist grows. Soon, she doesn't want to fade into the background and it's a good thing because her director has more big plans for Julia!
Format:
Hardcover
Publisher:
Katherine Tegan Books
Number of Pages
: 368
Publishing:
March 21st
, 2017
Why I want to read Miss Ellicott's School for the Magically Minded:
I've read and enjoyed Jinx by the author and I love school stories and kids learning magic. That cover is gorgeous.
Chantel would much rather focus on her magic than on curtsying, which is why
she often finds herself in trouble at Miss Ellicott's School for Magical Maidens. But when Miss Ellicott mysteriously disappears along with all the other sorceresses in the city, Chantel's behavior becomes the least of her problems.

Without any magic protecting the city, it is up to Chantel and her friends to save the Kingdom. On a dangerous mission, Chantel will discover a crossbow-wielding boy, a dragon, and a new, fiery magic that burns inside her—but can she find the sorceresses and transform Lightning Pass into the city it was meant to be?
The Great Hibernation by Tara Dairman
Format:
Hardcover
Publisher:
Random House/Lamb
Publishing:
September 12th
, 2017
Why I want to read The Great Hibernation:
I loved Tara Dairman's All Four Stars Series and am excited to read her latest book.
The most important tradition in tiny St. Polonius-on-the-Fjord is the annual Tasting of the Sacred Bear Liver. Each citizen over twelve must eat one bite of liver to prevent the recurrence of the Great Hibernation, when the town founder's fell asleep for months.
This year is Jean Huddy's first time to taste the liver. It doesn't go well. A few hours later, all the adults fall asleep. And no one can wake them.
The kids are left to run things, and they're having a blast. That is, until the town bullies take over the mayor's office and the police force.
Jean suspects that this "hibernation" was actually engineered by someone in town. She starts to investigate, and inspires other kids to join her in a secret plan to save St. Polonius.
Midnight Without a Moon by Linda William Jackson
Format:
Hardcover
Publisher:
HMH Books for Young Readers
Published:
January 3rd
, 2017
Why I want to read Midnight Without A Moon:
Each year I try to read at least one historical fiction and I've been hearing such good things about this book.
Rose Lee Carter, a 13-year-old African-American girl, dreams of life beyond the Mississippi cotton fields during the summer of 1955. Her world is rocked when a 14-year-old African-American boy, Emmett Till, is killed for allegedly whistling at a white woman.
Dragonwatch: A Fablehaven Adventure by Brandon Mull
Format:
Hardcover
Publisher:
Shadow Mountain
Published:
March 14th
, 2017
Why I want to read Dragonwatch:
Fablehaven is my child's favorite series and I can't pass up this new installment.
In the hidden dragon sanctuary of Wyrmroost, Celebrant the Just, King of the Dragons, plots his revenge. He has long seen the sanctuaries as prisons, and he wants nothing more than to overthrow his captors and return the world to the Age of Dragons, when he and his kind ruled and reigned without borders. The time has come to break free and reclaim his power.

No one person is capable of stopping Celebrant and his dragon horde. It will take the ancient order of Dragonwatch to gather again if there is any chance of saving the world from destruction. In ancient times, Dragonwatch was a group of wizards, enchantresses, dragon slayers, and others who originally confined the majority of dragons into sanctuaries. But nearly all of the original Dragonwatch members are gone, and so the wizard Agad reaches out to Grandpa Sorenson for help.

As Kendra and Seth confront this new danger, they must draw upon all their skills, talents, and knowledge as only they have the ability to function together as a powerful dragon tamer. Together they must battle against forces with superior supernatural powers and breathtaking magical abilities.

How will the epic dragon showdown end? Will dragons overthrow humans and change the world as we know it?
2017 Must Read YA Books:
Format:
Hardcover
Publisher:
Balzer + Bray
Publishing:
February 28th
, 2017
Why I want to read The Hate U Give:
I've been seeing this pop-up a lot on Twitter and the premise makes this sound like I book that I wouldn't want to miss.
Sixteen-year-old Starr lives in two worlds: the poor neighbourhood where she was born and raised and her posh high school in the suburbs. The uneasy balance between them is shattered when Starr is the only witness to the fatal shooting of her unarmed best friend, Khalil, by a police officer. Now what Starr says could destroy her community. It could also get her killed. Inspired by the Black Lives Matter movement, this is a powerful and gripping YA novel about one girl's struggle for justice.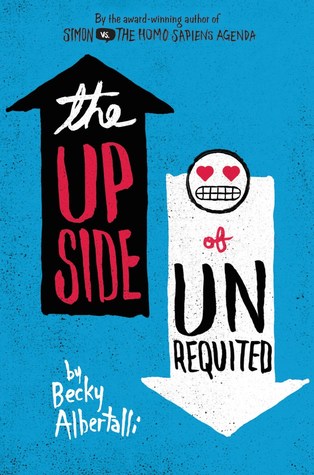 The Upside of Unrequited by Becky Albertalli
Format:
Hardcover
Publisher:
Balzer + Bray
Publishing:
April 11th
, 2017
Why I want to read The Upside:
I have an EArc from Netgalley and this is my most anticipated YA read for this year.
Seventeen-year-old Molly Peskin-Suso knows all about unrequited love. No matter how many times her twin sister, Cassie, tells her to woman up, Molly can't stomach the idea of rejection. So she's careful. Fat girls always have to be careful.
Then a cute new girl enters Cassie's orbit, and for the first time ever, Molly's cynical twin is a lovesick mess. Meanwhile, Molly's totally not dying of loneliness—except for the part where she is. Luckily, Cassie's new girlfriend comes with a cute hipster-boy sidekick. If Molly can win him over, she'll get her first kiss and she'll get her twin back.
There's only one problem: Molly's coworker, Reid. He's a chubby Tolkien superfan with a season pass to the Ren Faire, and there's absolutely no way Molly could fall for him.
Right?
Untitled or books without a cover or release date yet, but they are on my favorite authors/purchase list: (links to Goodreads)
Middle-Grade
The Problem Children by Natalie Lloyd
A middle-grade series about seven strange siblings, all born on a different day of the week, and the neighbors who keep trying to tear their family apart.
Posted by John David Anderson
In middle school, words aren't just words. They can be weapons. They can be gifts. The right words can win you friends or make you enemies. They can come back to haunt you. Sometimes they can change things forever.
When cell phones are banned at Branton Middle School, Frost and his friends Deedee, Wolf, and Bench come up with a new way to communicate: leaving sticky notes for each other all around the school. It catches on, and soon all the kids in school are leaving notes—though for every kind and friendly one, there is a cutting and cruel one as well.
In the middle of this, a new girl named Rose arrives at school and sits at Frost's lunch table. Rose is not like anyone else at Branton Middle School, and it's clear that the close circle of friends Frost has made for himself won't easily hold another. As the sticky-note war escalates, and the pressure to choose sides mounts, Frost soon realizes that after this year, nothing will ever be the same.
The Empty Grave (Lockwood & Co. #5) by Jonathan Stroud
Five months after the events in THE CREEPING SHADOW, we join Lockwood, Lucy, George, Holly, and their associate Quill Kips on a perilous night mission: they have broken into the booby-trapped Fittes Mausoleum, where the body of the legendary psychic heroine Marissa Fittes lies. Or does it? This is just one of the many questions to be answered in Book 5 of the Lockwood & Co. series. Will Lockwood ever reveal more about his family's past to Lucy? Will their trip to the Other Side leave Lucy and Lockwood forever changed? Will Penelope Fittes succeed in shutting down their agency forever? The young agents must survive attacks from foes both spectral and human before they can take on their greatest enemy in a climactic and chaotic battle. And to prevail they will have to rely on help from some surprising--and shadowy--allies. Jonathan Stroud once again delivers a rousing adventure full of danger, laughs, twists, and frights.
Young Adult
Godsgrave by Jay Kristoff
Young assassin Mia continues her journey for revenge in this new epic fantasy from acclaimed author Jay Kristoff.
Jay Kristoff's masterful ability to create immersive universes continues to impress in this new fantasy, which continues where we left off with assassin Mia in her high-stakes quest for revenge.
Mia has found her place among the Blades, but many in the hierarchy think she hasn't earned it. She's no closer to avenging her family; in fact, she's told directly that Consul Scaeva is off limits. But Mia has her own suspicions about the Red Church's motives.
When it's announced that Scaeva will be making a rare public appearance at the conclusion of the gladiatorial games, Mia sells herself into bondage to enter the games. Beneath the arena floor, Mia finds new rivals and allies. But as she is forced to kill those she counted as friends on the arena sands, those she trusts begin to question her cause and she'll be forced to fight for her life with only the assistance of a mysterious shadowy figure.
Next post I'll be looking at my bookish resolutions from last year and seeing how well I did plus making a few new ones. Thanks for stopping by and feel free to let me know if there are any books that I just must take a look at.
Hope you have a great week!