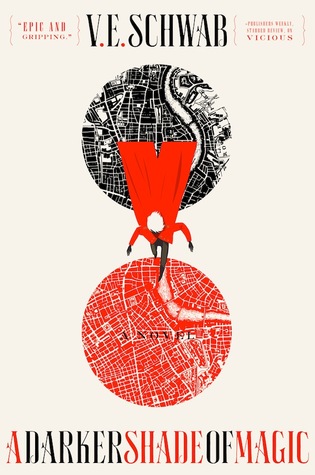 Published:
February 24, 2015 by Tor Books
Genres
:
Young Adult Fantasy
Pages:
400 pages
Format:
Hardcover
Source:
Public Library
From Goodreads
:
"
Kell is one of the last Travelers—rare magicians who choose a parallel universe to visit.
Grey London is dirty, boring, lacks magic, ruled by mad King George. Red London is where life and magic are revered, and the Maresh Dynasty presides over a flourishing empire. White London is ruled by whoever has murdered their way to the throne. People fight to control magic, and the magic fights back, draining the city to its very bones. Once there was Black London - but no one speaks of that now.
Officially, Kell is the Red Traveler, personal ambassador and adopted Prince of Red London, carrying the monthly correspondences between royals of each London. Unofficially, Kell smuggles for those willing to pay for even a glimpse of a world they'll never see. This dangerous hobby sets him up for accidental treason. Fleeing into Grey London, Kell runs afoul of Delilah Bard, a cut-purse with lofty aspirations. She robs him, saves him from a dangerous enemy, then forces him to another world for her 'proper adventure'.
But perilous magic is afoot, and treachery lurks at every turn. To save all of the worlds, Kell and Lila will first need to stay alive — trickier than they hoped."
I knew I wanted to read this after reading Kim's Review at The Midnight Garden. Then I followed along the blog tour, and really wanted to read this. I was happy to see if pop up on the library list of New Releases, but I only got it for a 14 day-loan. I really shouldn't have worried about finishing it in time, I read this in a weekend, it's that good! One of those books that you just can't put down.
First off, I loved Schwab's alternate London's, each was unique and magical, you can tell she spent a great deal of time developing her worlds. I also loved that right away Schwab introduces Kell, the traveler.
"Kell wore a very perculiar coat. It had neither one side, which would be conventional, nor two, which would be unexpected, but several, which was, of course, impossible."
The world and the characters of each London seemed to come to life as Kell stepped from one London to the next. You experience them as he see's them and then later through Lila. A Darker Shade of Magic also has a well thought out magic, with rules and consequences that makes for a very interesting plot. No need to wade through pages and pages of text, it's all present in lovely detail from the start and just grabs at you making you want to read more about the Antari and how magic lives in their blood. Not to mention there is a thief, Lila who is charming, funny, smart, an adventure seeker with some badass talents of her own. She has a quick wit and the bantering that goes on between her and Kell makes for some very entertaining reading.
"You don't know anything about these worlds," he said, but the fight was bleeding out of his voice. "Sure I do," countered Lila cheerfully. "There's Dull London, Kell London, Creepy London, and Dead London," she recited, ticking them off with her finger. "See? I'm a fast learner."
And then there is "Give me the stone, he said, "and I'll let you come." Lila bit back a sharp laugh. "I think I'll hold on to it until we're through. "And if you don't survive?" challenged Kell. "Then you can raid my corpse," she said drily. "I doubt I'll care."
Like the title alludes to, there is a darker side to the magic. There are the Danes twins, who were down right creepy and the ways that they use the magic in their world give me shivers just thinking about it. They were decisively cruel in their tactics. A Darker Shade of Magic could be read as a standalone, there aren't many loose ends, but why would you? Especially since Schwab is working on a sequel. I for one don't think I got enough of Prince Rhy's flirtatious ways and it would be wonderful to revisit Kell and Lila again. Perhaps even see some developing romance between the two, hmm have to wait and see alas.