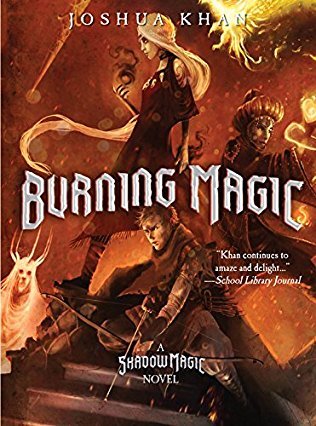 Burning Magic by Joshua Khan
Format: Hardcover
Publisher: Disney-Hyperion
Number of pages: 336
Publishing: April 10th, 2018
Source:
Purchased

Opening Line: "Hey! You got any zombies up on deck?"
Starting the last book of series is always that sort of bittersweet moment, knowing that it's the last book, but also wanting to leave it on the TBR pile just a bit longer. It's like that first sip of coffee for me in the morning, I wanted to savor it slowly. Before I get started with my review here's a brief summary thus far. In book one we met Thorn, a young boy who was sold into slavery to the executioner of Gehenna, a kingdom that is full of dark magic and ruled by Lilith "Lily" Shadow. Lily came to power after her parents and brother were killed under mysterious circumstances and she rules as the queen of the undead. Lily is both loved and feared by her people because women are forbidden to perform magic under penalty of death. In Dream Magic (Book 2), Lily used her magic to save Thorn and together they pieced together the identity of a mysterious Dreamweaver and vanquished his jewel spiders before they could do any further harm.
Book three has a whole new setting, the Sultanate of Fire, K'leef's home. Compared to Gehenna, it's extravagant, bright, filled with fire and a few efreets. Like in Gehenna, however, women are also not allowed to perform magic. Lily and Thorn have come to pay their respects following the death of the Sultan and to witness the coronation of K'leef's brother. What was to be a happy occasion with one of their closest friends, suddenly turns tragic when K'leef's brother's magic seems to fail him resulting in his death. Lily is concerned that without a ruler the Sultanate leaves themselves open for invasion. The rules of succession state that the next person in the royal family who possess the most powerful magic will gain the throne, the most likely person is K'leef's brother Jambiya. However, K'leef doesn't trust his brother and challenges his succession. Thorn then get's involved in a dispute with Jambiya over prisoners that are about to be executed for practicing witchcraft and Thorn releases them by blowing up an ancient structure called The Candle landing Thorn in shackles about to be their replacement. To save both Thorn and the Sultanate, K'leef, Gabriel and Thorn go on a quest to the Shardlands to retrieve a phoenix. Meanwhile, Lily is left behind with K'leef's sisters who have a few secrets of their own and Lily uncovers that K'leef's brother's magic did not fail him, he was instead murdered.
I so enjoy the worlds that Khan's has created in the Shadow Magic series. Gehenna will forever be my favorite for its darkness, home to Castle Gloom, the assortment of zombies and ghosts, and one of the most adorable ghost puppies I've ever seen. How can you not love a character like Lily,
"the ruler of Gehenna, descendant of the Prince of Darkness, the mistress of nightmares, the troll friend, the witch queen, whose very name is feared by the seven dukes of hell."
Each book highlights different types of magic, how the Twilight that Lily describes as "holding regret and longing" is this mysterious in-between realm. And now we have K'leef's home. The imagery Khan creates with descriptions like this one, "Radiant light beamed from the twin dragons' eyes, and smoke rippled from their nostrils and partially parted jaws. The evening sun cast red light over their golden scales and the silver wings curled close to their sinewy tails and hind claws, poised to launch into the clouds." The ways that the magical system's and cultures may be different, but there are still rules that govern each of them that were similar. The humorous moments, like when Lily comments about how amusing it is that "the rule of law is women who are caught performing magic face death by fire, and here she was in a city of fire."
I also really love Lily and Thorn. Lily is the ruler of her kingdom and has all these rules imposed on her, but above all, she cares for her people and wants to protect her kingdom. Where Lily might have protocols to follow, Thorn isn't inhibited in that way. Being a squire doesn't stand in his way from saying and doing what he wants. I love his loyalty to Lily
and sarcasm but most of all will miss their adventures together and friendship. I can't forget Hades the bat, Thorn's friend and most definitely not his pet. I very much liked that it was the three of them for the final moments of the story, in my version Custard is tucked under Lily's arm too. I remember Khan saying somewhere that the best sort of ending is one that leaves you wanting more or something to that effect. Despite the wonderful way that things ended and the beautiful acknowledgment at the back of the book, I can't help being a bit sad, but also hopeful for more books from Khan in the future. I guess if anything maybe I need to start an annual tradition of reading the Shadow Magic series in October paired with Jonathan Stroud's Lockwood & Company.