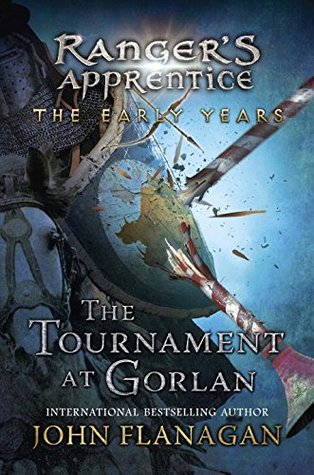 The Tournament at Gorlan (
Rangers Apprentice The Early Years)
by John Flanagan
Format: Hardcover
Publisher: Philomel Books
Number of Pages:

364


Published: October 6th 2015
Source: Review copy provided by publisher
Genre: Fantasy Adventure
The Tournament at Gorlan recounts the story of Baron Morgarath's plot to seize the throne from King Oswald. Morgarath begins by weakening the Ranger Corps, and replacing much of the men with his own. He also captures Prince Duncan and holds him hostage, while having an impostor impersonating the Prince wreak havoc and besmirch Duncan's name across the countryside. The plan is to have King Oswald, the villagers and nobles get so angry with the Prince, that it will force the King to disinherit his son and replace Morgarath as the rightful heir to the throne. Well at least until our heroes of this tale, Halt and Crowley, come along. When Halt and Crowley uncover Morgarath's villainous plans,
they set out to gather the Rangers, release Prince Duncan from his captures and expose Morgarath's plot.
The Rangers Apprentice is a series of twelve books that my kiddo has steadily been reading, currently leaving off with book four I think. There is also a spin off series called The Brotherband Chronicles and the newest series, The Early Years is meant to not only provide backstory to the events in book 1 and 2 of the Rangers Apprentice, but also includes some of the characters and plot points from a previous book. With well over twenty books out there, it's safe to say that Flanagan's books are pretty popular. Prior to reading The Tournament at Gorlan, I was
only familiar with the first book in The Rangers Apprentice, having gotten distracted by other books, but from what I remember, I quite enjoyed it. One of the things I enjoyed most about this new series is that it isn't dependent on having read The Ranger's Apprentice series first. You could pick this up and pretty much follow everything going on. Although if you do read and enjoy this book, you just might want to go back and read from Flanagan's other series', be forewarned.
While riding horseback, Halt and Crowley encounter a rider carrying a dispatch from Baron Morgarath to Sir Wildriver, the letter pretty much details all the Barons plans. I thought this was quite amusing, from the get go, Halt and Crowley know everything that Morgarath is doing. But, here is where Flanagan still is able to throw in a few twists that makes things more difficult then Halt and Crowley thought. Quite a bit of the initial parts of the book are spent with Halt and Crowley gathering Rangers who are loyal to the King. During the amassing of troops there wasn't lots of action, but I was okay with this. There was plenty of amusing scenes with Halt and Crowley bantering back and forth around a campfire or while riding horses, and the strength of their friendship really shows. Plus this gave me a chance to get to know the other Rangers and they in turn got to use their bow and arrow skills against Morgarath's troops. E
verything started to come together nicely with the action revving up, ending in the final jousting competition at the tournament. I'm surprised that I got to read this one first, but will be passing it along to my kiddo.