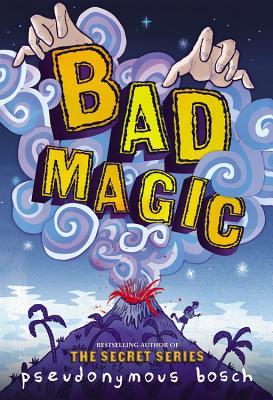 Hardcover, 400 pages
Expected publication: September 16th, 2014 by
Little Brown Books for Young Readers
In exchange for an honest review, an ARC was
received from the publisher for free via NetGalley
Psuedonymous Bosch is the author of the Secret Series (f
or which I've read the first two)
. The first book in the series was The
Name of This Book is Secret and featured the
characters of Max Ernest and Cass,
who were trying to uncover a secret. I
remember liking the
narrator of the story, with his cautioning the reader, asides, foreshadowing and funny way that he would have a conversation with himself. Think Lemony Snicket.
Opening line: "This book begins with a bad word."
Okay, so that line certainly had me wondering what direction this book was going to go. Well "bad words" are so bad aren't they? But, Clay's older brother Max Ernest has a great way of explaining it to three year old Clay after he mistakenly says a "bad word",
"bad words are bad because they make people feel bad. That's what they do... And good words make people feel good...And magic words make people feel magic." Now your probably wondering, well then what does "bad magic" mean? I was too, but you'll have to read the book to figure that one out for yourself. He, he, now I feel bad.
When Clay was eleven, Max Ernest (yep, the one from The Secret series by the same author, nice tie-in by the way
)
disappeared without an explanation. Well, unless you count the note he sent saying that they wouldn't be hearing from him for awhile and not to worry.
Clay's brother,
Max Ernest means the world to him, he's the one that inspired his interest in magic and they are bonded by the magic they enjoy. So, when Clay is given an assignment by his language arts teacher Mr. Bailey to discuss the role of magic in the play The Tempest, his leg gets to jittering and he gets a terrible case of writers block. Magic was his and his brothers thing after all. Mr. Bailey then offers Clay
a journal and says as long as he writes anything it it, he can get credit in class. Clay thinks this is the answer to his prayers, but when the very thing he writes in the book ends up as
graffiti on the wall at school, with his signature tag, Clay is immediately blamed. Despite protesting his innocence, no one wants to listen to Clay. Clay's parents are even sending him to Earth Ranch, a camp for "struggling youth" on a island with a volcano and llamas to take care of for the summer. But Earth Ranch, isn't quite what it seems, there are ghosts, a dangerous volcano, and even his cabin mates have secrets of their own.
I liked how Bad Magic draws from Shakespeare's play The Tempest. It made me want to go back and read the play.
Bosch did a wonderful job of providing just the right amount of
details to give me an idea what the play is about though. One of the biggest changes I found about Bad Magic, was that the narrator from the Secret's series wasn't as "talkative" in Bad Magic. I think that's mostly because Bad Magic was more of an adventure/mystery story and Bosch used techniques that lend themselves to this sort of genre instead. That doesn't mean he was absent, but Bosch's asides in Bad Magic seemed more as an educational tool, but not in a preachy kind of way, but more of a way to explain the origins of the pop culture references of
Gilligan's
Island, Fantasy Island, The Love Boat, and literary references like
J.R.R. Tolkien,
Sherlock Holmes, and
Shakespeare that he used in the story. Bosch does still have conversations with himself, so he kept the humorous aspects I so enjoyed reading. Especially the one at the beginning of the story about "bad words" that he elaborates on in the Appendix as well. Overall, I really enjoyed Bad Magic, there is ample amounts of mystery, humor, and a diverse group of camp mates that make for an entertaining and educational read. Bad Magic had a satisfying ending but also left room for another book.